Don't Pay Any Levy To Prampram – Nene Atiapah III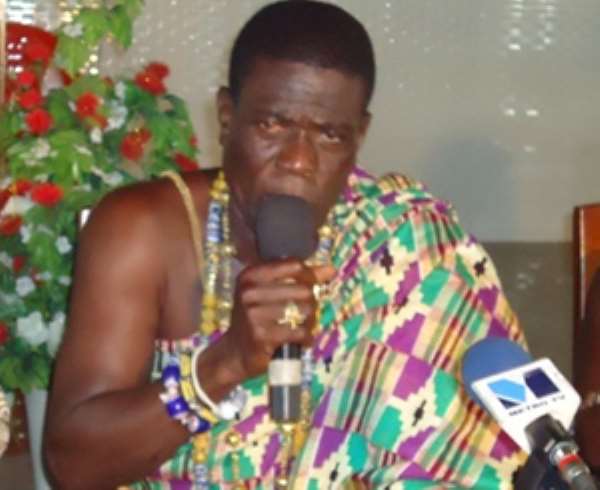 Nene Kanor Atiapah III, addressing the summit. 
THE ACTING Paramount Chief and Mankralo of the Ningo Traditional Area has warned his people not to pay any government levy to Prampram as its district capital.
According to Nene, any Ningo indigene who would participate in any activity organised by the government that would be held at their sister community, Prampram, would be banished.
He was of the view that all levies which were supposed to be paid at Prampram, should be directed to the Ningo Traditional Council for the development of the area, which was lagging behind in development.
'For over eight years now, Ningo has never seen taps flowing with water albeit some recent government intended development. Ningo cannot be under Prampram. We have what it takes to be independent from Prampram and that is all we are asking for from the government.'
Nene Kanor Atiapah III gave the warning when he was addressing a home summit of the Great Ningo Youth Association (GNYA) at Old Ningo, last Saturday.
He charged the fervent youth to remain resolute in their demand for a separate district for Ningo.
He noted, 'We maintain that Ningo cannot allow itself to be lorded over by Prampram. We the people of Ningo will continue to cry unto government for a new district to be created for us.'
According to him, his Council had started collecting levies for over a year now, and part of the levies would soon be used for the construction of a senior high school (SHS), the rehabilitation of the area's dilapidated police station and other projects that would give Ningo a facelift.
The Mankralo thanked government for its readiness to construct a fishing harbour, some 5,000 housing units and an international airport on their lands.
Prof Jerome Siau Djangmah, former Pro-Vice Chancellor of the University of Cape Coast who was the Guest Speaker for the occasion, highlighted on the need for government to give Ningo a new district or make it the district capital of the Ningo-Prampram.
'Ningo is upset and that is why we are here. Ningo has all it takes for it to become a district capital. We have the man power, natural resources, high population and wide stretch of lands. We are expecting a positive message from the government,' Prof Djangmah said.
From Vincent Kubi, Ningo