Trainee policeman, protester killed in Guinea riots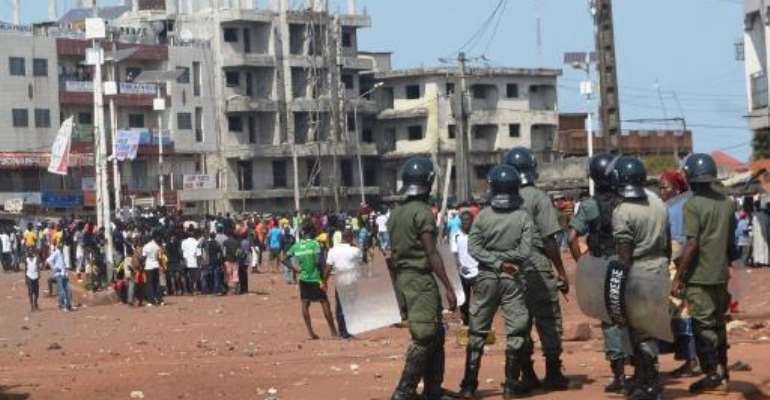 Conakry (AFP) - At least two people including a trainee policeman were killed and 33 wounded as residents angry at power shortages rioted in the Guinean capital Conakry on Tuesday, security sources and witnesses told AFP.
The officer was struck by a stone and beaten to death by a mob as he fell from a pick-up truck while a protester died when he was hit accidentally by a police car, force spokesman Mamadou Alpha Barry told AFP.
The violence broke out as police used teargas and batons to disperse thousands of demonstrators who responded by throwing stones, burning tyres and overturning rubbish, with some witnesses reporting seeing officers firing live ammunition.
The protester had been trying to escape police brandishing batons when he was run over, a man identifying himself as the victim's brother told AFP, adding that he was dragged several metres and "died on the spot".
Medical sources told AFP at least 33 people had received treatment for minor injuries in two clinics before being allowed to leave.
The protesters gathered spontaneously at the end of a grace period lasting a week during which Prime Minister Mohamed Said Fofana had asked for time to solve electricity cuts affecting several areas of the capital.
"The prime minister came here on February 10 following another protest and he asked us to keep the peace for a week to allow 'Electricite de Guinea' to turn the power back on in our neighbourhoods," said Abdul Aziz Soumah.
"Up until yesterday nothing had happened and we are back in the streets to remind him of his promise."
Conakry governor Sekou Resco Camara said late Monday he was aware of the possibility of "troublemakers" protesting and warned against "any attempt to destabilise the country".
He urged security forces to "prevent by all means necessary these protests by arresting and bringing before the courts all offenders".
Water and electricity cuts are common in the impoverished west African nation's main cities and regularly lead to violent unrest.