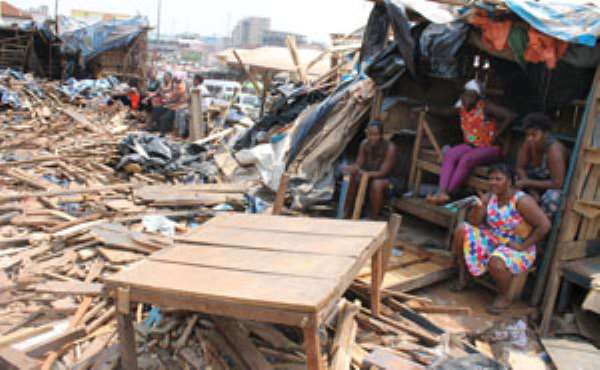 Some of the demolished structures

ABOUT 400 TRADERS at Adehyeman in Kumasi, the Ashanti Regional capital, have obviously lost their source of livelihood as their metal containers and stalls in which they transact their businesses, were demolished in the early hours of Sunday.
The KMA has distanced itself from the demolition exercise. Reports making the rounds indicate that a certain private developer sought court order to pull the structures down.
This private developer (name not known), reports indicated, was claiming that the Adehyeman Garden land belong to his family, hence he was seeking court order to demolish the structures on it.
Sources told this paper that the area was a scene of sadness as some of the affected traders who got wind of the demolition exercise, rushed to the scene to witness their stalls being destroyed.
The displaced traders claimed they were not given any notice of the demolition exercise, which had destroyed what they had toiled for over the years.
According to them, they were just informed at the eleventh-hour that a joint military/police team was at Adehyeman on Sunday at dawn to supervise the destruction of their sources of livelihood.
The affected traders said what worried them most was the fact that they were not served any eviction notice before the demolition exercise took place.
The KMA boss, Kojo Bonsu, upon learning of the exercise, quickly rushed to the place to assess himself the extent of the damage caused.
He told newsmen that the assembly had been taken by surprise, emphasizing that the KMA had no hand in the exercise.
Looking angry, the KMA boss told the traders to continue doing their business at the place until his outfit served them notice to vacate the place.
FROM I.F. Joe Awuah Jnr., Kumasi