Child Well- Being Disparities High – UNICEF Data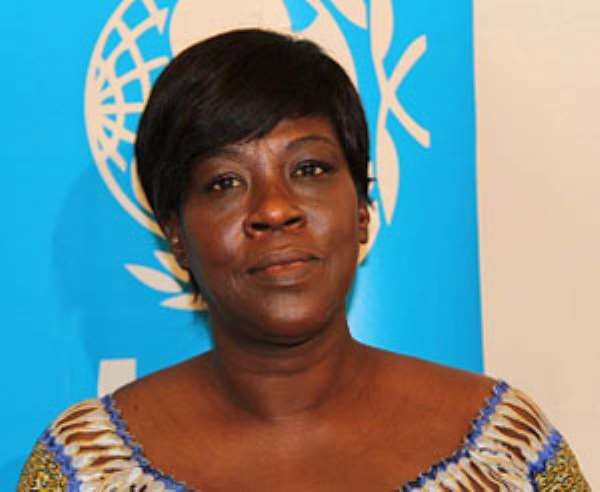 Susan Ngongi, UNICEF Ghana Representative 
The 2011 Multiple Indicator Cluster Survey (MICS) of the UNICEF has revealed that in spite of the economic growth of the country, huge disparities still exist in children's well-being.
The UN body uncovered unequal distribution of resources among people in the north and the south, rural and urban migration among the poor and rich in Ghana. For instance, a child in the Upper West Region is nearly three times more likely to die before the age of five than a child born in the Greater Accra Region.
Also, evidence from the MICS survey showed that even though primary net education rate was about 84 percent for Ghana, nearly half a million children are still not enrolled in school, despite the free universal basic education policies.
The collection of data on these differences and actions taken based on the finding had been one of the recommendations of the recently released United Nations Children's Fund (UNICEF) report, to help bridge the differences in the lives of Ghanaian children.
The UNICEF report, 'Every child counts -revealing disparities, advancing children's rights,' throws light on the importance of data in showing where the most pressing issues militating against children were and how data could be utilised in making progress for children.
The new premier source of data and information on child well-being was released to mark the 25 th  anniversary of the Convention on the Rights of the Child.
The report, among other things, advocated an increased investment in innovation that would ensure that all children everywhere were counted, to right the wrong of exclusion.
Some sections of the report noted, "Being counted makes children visible, and this act of recognition makes it possible to address their needs and advance their rights.
'Data is useful when decision makers use it to make a difference in the lives of people; it is also a useful tool for children and communities to hold duty bearers to account.'
'In Ghana, UNICEF is a knowledge centre on children because of the various surveys we have undertaken in collaboration with the government. These have helped to expose where the conditions are worse for children and to advocate for more work to be done,' said Susan Ngongi, UNICEF Ghana Representative.

By Jamila Akweley Okertchiri