Afari-Gyan talks about his peer pressure-induced smoking and his stolen tilapia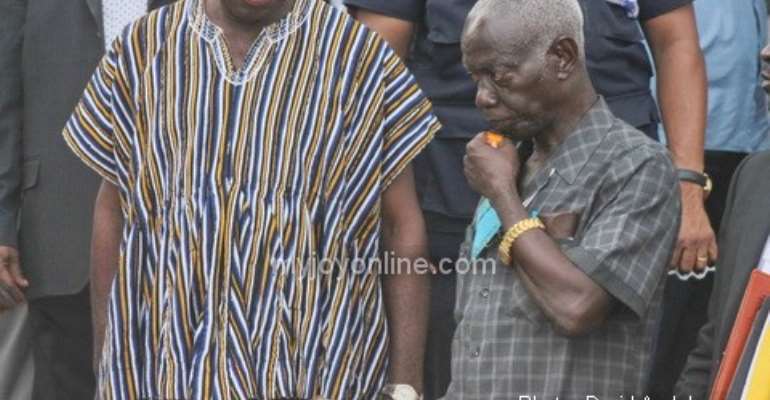 Chairman of Ghana's Electoral Commission, Dr. Kwadwo Afari-Gyan, has blamed his chain-smoking habit on the friends he made while at the university.
Speaking exclusively to broadcast-journalist Sammy Darko in an interview conducted for Power 103.5 FM, Dr. Afari-Gyan, for the first time, explained the famous story of how his workers stole tilapia from his farm and also touched on several aspects of his life.
NEWS-ONE reproduces a transcript of portions of the interview.
Why Do You Smoke?
Formerly I was not smoking. It was peer pressure that got me into it. It was in the univer­sity. And I was with a group and they would say 'Oh I would have a smoke' and so on. And so eventually I got into it. In fact when it was diffi­cult to get cigarettes in Ghana, somebody I knew who worked in the tobacco industry used to bring me cartons and I would distribute them to people without smoking any.
But because I was getting them for free and I was around a company that was smoking, I just became hooked on it and once you get used to the nicotine, it becomes difficult to ermmm...
Some say the election pressure makes you smoke.
Oh no no no no. It has nothing to do with the election. I can go on long stretches without smoking. I have gone from here through Britain, through the US, to Fiji. It takes two days and I. was without a cigarette. So people who think I always have a cigarette in my mouth are those who don't know me. But I smoke.
Are you going to quit?
Errmmm, I don't know but I don't want to promise any­body that I am going to quit. I would rather have it as a pleasant surprise to people when they don't see me smok­ing than to rather say I would quit and then I don't quit. There was a time I quit for nine months, and I went back.
I heard a story (to the effect that) you prosecuted someone who stole one tilapia from you.
It is a farm. I have a farm and I have two products on the farm, one being fish. I have a number of fish ponds and they went in the dead of the night and put a net in the pond and stole the fish.
Is it true they took just one tilapia?
Oh my God! You see, if you go there and you see the pond, hmm. You see, they said they stole 20 blit when the police went there and they saw the guy's wife, she was smoking fish and making fish soup. Look, the police confiscated the fish soup they had made and took it there as evi­dence. If you know the pond and the number of fishes in there, and they said they got just 20 fish? Oh my God.
But the soup could not have contained more than 20 fish.
No no no no. I am saying they said they stole 20 and went and sold them. But when the police went to search their house, the guy's wife had built a facility for smoking fish! This guy was working on the fish farm and I was paying him and he went and hired people to steal my fish.
In fact, it was a KIA (vehicle) that they went and hired. The KIA guy had brought some things to the farm before so when he realized they were going to my place, he said he had run out of fuel so he went and never came back. So they went for an Okada rider and made other arrange­ments.
So the story was misrepresented.
Oh yes! You can come to the farm and see. You would see a big pond. And someone says he put a net in it and he got 20 fish? That is incredi­ble.
What is your favourite music?
My favourite is highlife and I mean highlife.
Which of them exactly? I want to play you one.
You just play me highlife and it better be highlife.
But a name could help.
Okay. Ermmm, well, I'would mention some­body I am friendly with. Play me something by Amakye Dede.