Ethiopian co-pilot hijacks plane to seek Swiss asylum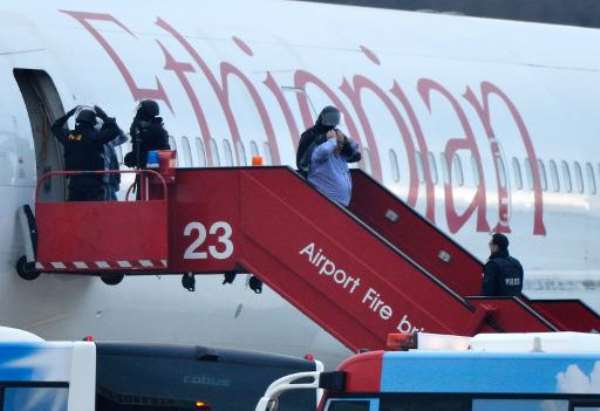 Police evacuate passengers on February 17, 2014 from an Ethiopian Airlines flight en route to Rome which was hijacked and forced to land in Geneva. By Richard Juilliart (AFP)
Geneva (AFP) - The co-pilot of an Ethiopian Airlines plane hijacked his own aircraft Monday by threatening to crash it and forced a landing in Geneva so he could seek asylum, igniting what one passenger described as "pure fear".
The Ethiopian locked himself in the cockpit when the captain went to the bathroom during flight ET-702 from Addis Ababa, which had been due to fly to Rome.
He was swiftly arrested in Geneva after scaling down a rope out of the cockpit window and prosecutors said the chances of his demands being met were slim.
"We thought the co-pilot had gone mad," Francesco Cuomo, a 25-year-old development economist who was on board, was quoted by Italian media as saying.
"The captain was threatening to open the cockpit door and tried to break it down without success. That's when we understood that something serious was going on.
"When we started circling over Geneva, there were moments of pure fear," he said.
After landing in Rome from Geneva, another passenger, Diego Gardelli, told the ANSA news agency: "At one point a stewardess told us 'Are you Christian? Then pray to God. That's what I'm doing'."
Gardelli said the passengers did not realise they had been hijacked until the captain told them after landing. They thought there had been a technical problem.
"We thought we were going to plunge into the sea," he said, adding that passengers were also told to wear oxygen masks for half an hour during the flight.
"We feared the worst," said Elda, a 75-year-old passenger, adding that passengers were frisked one by one after coming off the plane "because they thought there could be accomplices".
- 'Do not move!' -
In an audio recording on Italian media websites, a voice said to be the captain could be heard trying to reassure passengers once they were on the ground.
"The pilot is still locked inside the cockpit but he is not armed," the man is heard saying.
"He threatened to crash the plane. I don't know his motives and I'm not interested. All I'm interested in is the fact that you're safe," he said.
In a smartphone video, passengers could also be seen with their hands behind their heads as a police announcement is heard over the loudspeakers repeating: "This is a police operation. Do not move!"
Addis Ababa identified the hijacker as 31-year-old Hailemedehin Abera Tagegn, who had been working for the airline for five years.
The man risks a 20-year prison sentence.
- Fighter jets scrambled -
A total of 202 passengers and crew were on board the Boeing 767 as the drama unfolded.
Head of operations at Geneva airport, Xavier Wohlschlag, told the ATS news agency the hijacker's request to land was initially denied.
The green light was not given until around 5:30 am (0430 GMT), as the plane, which was first escorted by Italian fighter jets and later reportedly by French ones, circled the region.
It emerged later on Monday that no Swiss fighter jets were scrambled as the hijack happened outside the business hours of the country's airforce, which operate between 8:00 am and 5:00 pm.
The plane finally landed in Geneva at 6:02 am, about an hour and a half after it was due in Rome.
"He parked the plane on the taxiway, he cut the engines then opened the cockpit window, threw out a rope and used it to descend to the tarmac," Swiss police spokesman Eric Grandjean told AFP.
"He ran towards the police and immediately identified himself as the co-pilot and hijacker."
The runway was crowded with police and other emergency vehicles as passengers filed out with their arms up in the air or on their heads before boarding waiting buses.
Flights to and from Geneva were either diverted or cancelled during the drama, but operations later resumed, said airport chief executive Robert Deillon.
Up to 30 flights and 4,000 passengers flying during the busy ski season were estimated to be affected.
In all, 14 hijackings have occurred in Switzerland since 1969, when Arab militants seized an Israeli passenger plane at Zurich airport, fatally wounding a pilot.
One hijacker died in a subsequent assault by Israeli special forces and three others were arrested.