Police 'shot and injured' protesters in Sudan's Darfur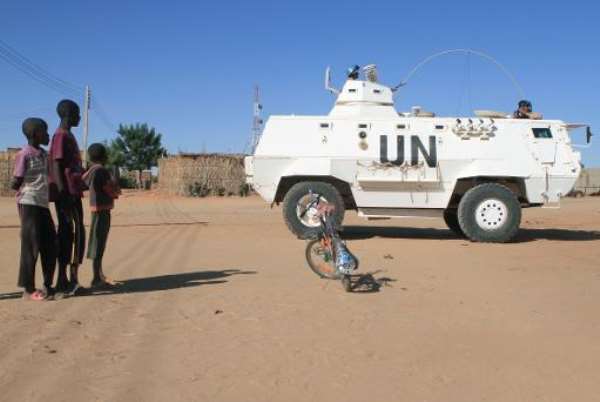 Youth watch a UNAMID soldier sitting in an armoured personnel carrier stationed in a camp in North Darfur on December 16, 2013. By Ashraf Shazly (AFP/File)
Khartoum (AFP) - Sudanese police allegedly opened fire Monday on demonstrators from a camp for displaced people in the troubled Darfur region, wounding an unconfirmed number, peacekeepers said.
"The initial unconfirmed report that UNAMID got was that two were injured. However, we are still verifying the report," a public information officer with the African Union-United Nations Mission in Darfur told AFP.
She said the incident, involving residents of the Hamadiya displaced camp, happened on the edge of Zalingei, the capital of Central Darfur state.
They are among almost two million people who the United Nations says are displaced in Darfur, from an 11-year-old war between the government and rebels, as well as from inter-Arab communal fighting which worsened last year.
The protesters objected to a conference organised by the Darfur Regional Authority (DRA) that brought together various groups in an effort to end tribal conflicts and promote peace in the region.
The DRA is a Darfur-wide government body set up to implement a limited peace deal in the region.
Major rebel groups did not sign the pact, and Darfur's camps are highly politicised.
Police could not be reached for comment.