Takoradi: Three die in midnight head-on car crash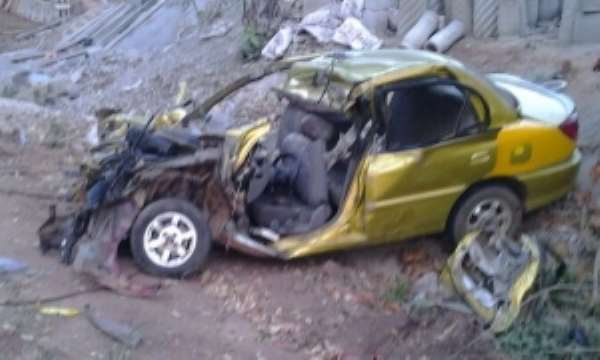 Three people died soon after midnight Monday when a taxi collided head-on with a cargo truck at Fijai Junction in the Sekondi/Takoradi metropolis.
Three others who were rushed to the Western Regional Hospital at Sekondi were said to be in critical condition. The dead were yet to be identified at the time of filing this report.
Speaking to the Daily Graphic, the Western Regional Commander of the Motor Transport and Traffic Department (MTTD), Deputy Superintendent of Police (DSP) Thomas Bayor confirmed the accident which he said occurred at about 12:30am.
 
DSP Bayor said the taxi driver veered off his lane and went onto the lane of the cargo truck loaded with fresh coconut fruits.
The impact of the crash damaged the taxi beyond repairs.
 
He said preliminary investigations indicated that both vehicles were speeding and when the taxi came into the lane of the cargo truck the driver might have panicked and eventually lost control of the vehicle.
 
DSP Bayor said various police patrol teams on night duties were called to the scene but unfortunately, the people were already dead and survivors badly injured.
 
He said one of the challenges on road traffic was excessive speeding especially when the roads are free at night. "I can tell you that if these vehicles were traveling at the accepted speed this could have been avoided," he added.
 
The MTTD Commander expressed the hope that those on admission would recover soon to help the police in its investigations.