Letters To My Soon To Be Colleague-Husbands: 2014, If Only I Will Be Husbands With You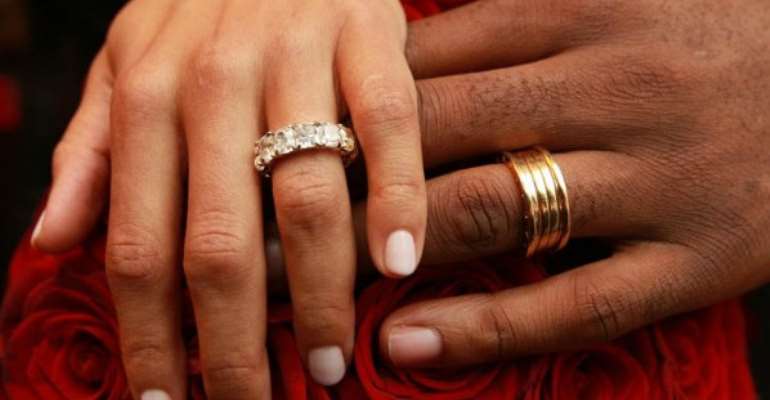 My Soon To Be Colleague-Husbands,
It's barely two month into the New Year, and I know by now most of you may have resolved on your plans for 2014. For me and left to me alone, you will all make it a point to be of good conduct to your wife's and live exemplary. As you may know the bible admonishes you all to be lovers of your wife's. Yet many of you have failed in this godly pursuit. And so I guess the New Year set the stage for you all to renew your faith with God and reclaim your vows as husbands.
Since this is the very first in my correspondence with you this year…I will mostly restrict myself to how the New Year has found me in my quest to join your status, even to the extent that I am only left with the obvious choice of desiring to be husbands with.
If you would recall, somewhere last year in one of the correspondence with you I made mention of how marriage threatens my quest. Then and there I gave reasons. I told of how your marriages don't inspire me to follow your suit. I also told of how the pursuits of your wife's at the workplace threaten my very desire.
Again I was emphatic in letting you know how in the mist of all my scars I am been hunted to join you.
I must confess that the heaviness on me to be husbands with you took an extremely demanding turn this Christmas when we parted to celebrate the birth of the saviour. Seriously I have never been such close to death as I have been to marriage in that period.
I know by now you are so eager to know what happened. Well this is not to say you have suddenly assumed the gossip pose of your wife's, but just as with humans, to be put in suspense is to be made fervent and so I will spare you the details….
Somewhere early December, after our last conversation, my pursuit came to a crossroad. Its' all began with the love of one O.A . . . . For O. A. every family person finds her adorable and seems to like her and out of that she has boldly told me that she has a place home. Not a moment passes without my sister asking of her in law. My nephews and nieces will come looking at her when she is home. In fact they have joined the band in singing me down to marriage. Indeed I have found home frustrating and demanding.
So after several enquiries and messages; an indirect call on me to be seen, I went to meet her father for the first time. This was after some few nights out and we have gotten so attracted to each other. Surely if confessions are any claims, then she is a class of her own. Any man, even your status will do anything to win her creamy chocolate skin, tender flesh, naturally oriented, level headed character. She is classy and belongs to the class a friend will call 'silky'. I have constantly told close associates not to relate my death now to anyone except her. In fact in my valentine message I made it clear that if there is any reason for me to be thankful then it is her.
And so it was obvious I had to run with her to meet her father; only for me to meet my 'dead end'-extreme heaviness. For me it was courtesy and act of maturity. But then it turned out that my intention about her needed to be clearly outlined; and it should be nothing less shot of a union of us two. Then arrangement would be made for me to meet her mom and uncle. So it becomes official and I can be with her anytime I wanted.
Obviously as you know this not what I wanted. Not an option I will choose now. Not in our 31days relationship. So I had to play around and choose my expressions carefully. Unfortunately nothing I said impressed him. It ended that he would have to come and visit and that I should fix the date. To him we are of age and that anything we want should be quick before the worse where huge financial levy will be imposed on me for forcibly taking their daughter; as much has gone into her upbringing. As close as that was and gave me goose bump I managed to escape. Thinking it will ease then came the daily reminders of what I have been asked or forfeits my charming.
Truly I have not been happy since and I have only been waiting for my crucifixion when that trial moment comes. This moment I know you know and so don't ask.
Then I needed her for a trip, very unusual indeed. Knowing the risk I went to ask her out and for permission. Then the condition remerged. This time in a large luxurious living room that in itself sent me distracted. I was served a chilled can coke and water, the latter which I gave it out to her younger siblings. In traditional hospitality I took the water. Then the ball set rolling but I managed to maintain my posture although that nearly marred my chances. Upon return I was left to go only for me to be invited again, this time with a warning.
My husband's, even as you read this letter I have an invitation pending and for what will be done to me only God knows.
Indeed I am troubled; and if 2014 will find me husbands with you despite your uninspiring marriages then know that this situation has been relevant. Or perhaps the condition I have put O. A. in.
By now if you wondering I have suddenly become promiscuous just as many of you have become infidel then bear me out on this; I am no more in touch with Afe-the love you have known for years. Why? She left me. You know this thing about women and attention. Perhaps I did not give her enough in the latter days and so it was obvious to her that I wanted her no more. The best option for her was for us to go separate ways. But not after some heated text message exchanges.
Truly I thought she was taking after one of my expensive jokes just to make me sit up. She was damn serious. The last time I checked she was going out. Do not be suspicious such is life.
As if all these are not enough, my soon-to-be colleagues, I have come to terms with the economic turmoil. Come to think of it of it I am reliably informed that bride price and dowries are now quoted in dollars. As you know this will also has deepen my woes and would require me to work some few more months to dollarize.
And so for me I know in 20i4 dreams and quest are not enough. It will take a lot and many happenings should I be husbands with you.
But for now I remain your soon-to-be-colleague.
Ben
Bachelor in standing
The Author Bernard Kwofie is a compassionate youth, a citizen journalist, and a natural observer. In addition to his profession in creative communication, community affairs, stakeholder engagement and youth development; he aims to write the most inspiring story. He can be contacted via his email [email protected]