De Men's Clinic Established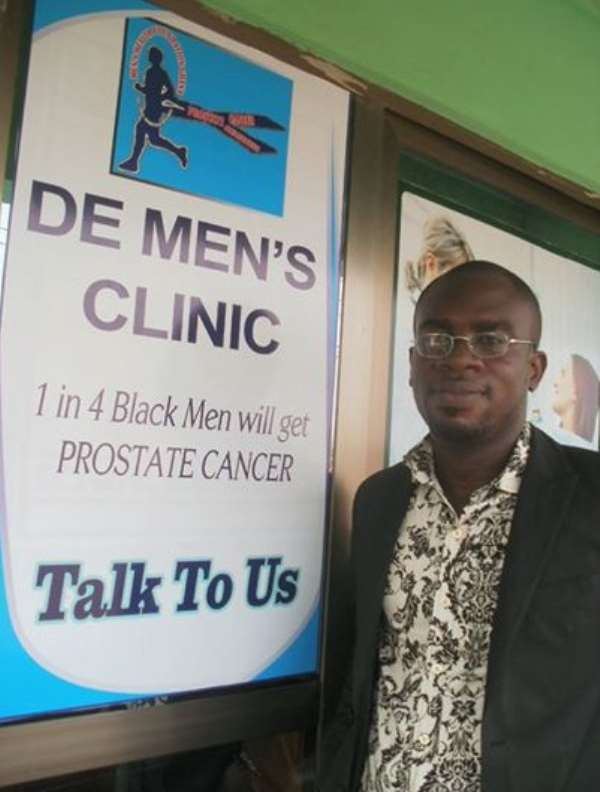 MEN'S HEALTH FOUNDATION GHANA, a prostate cancer support group and NGO creating awareness on prostate cancer in Ghana has established a clinic at Dodowa-Akoto House called DE MEN'S CLINIC. The clinic will provide free prostate cancer screening every Saturdays to men of 40years and above. The clinic will also provide cancer psychology services and relevant information regarding treatment option for men diagnosed with prostate cancer in Ghana.
The clinic will focus on complementary therapies and its role in cancer management to support men diagnosed with prostate cancer to support their quality of life and rate of survival.
Manned by Raphael Obu , a prostate cancer expert , cancer psychologist ,clinical sonographer and complementary medicine specialist . He said the community of men deserves better and men are actually getting a raw deal regarding prostate cancer treatment in Ghana and the NGO will educate men on prostate cancer and its treatment.
Raphael Obu is a product of Sheffield Hallam University, UK where he studies the Msc Radiotherapy and Oncology, Prostate cancer. He also holds numerous certificates in Prostate cancer organized by the Prostate Cancer UK with over 20 published articles and five academic papers on prostate cancer with two published in the Global Research Journal of Public Health and Epidemiology, published by the Spring Journals. He is also the author of the books
"What everyman must know before and after 40years. Prostate Health, a 437 page book to educate the men on prostate health in Ghana, Catalyst for Change in the dangme land, book calling for change in the dangme land and looking at whether the dangme land is in a state of stagnation or retrogression.
Men can therefore walk in every Saturdays from 9am -6pm for free prostate cancer screening or can call our Helpline 0541090045 to discuss Prostate cancer and its treatment.