Headquarters for Coalition of Concerned Teachers in Accra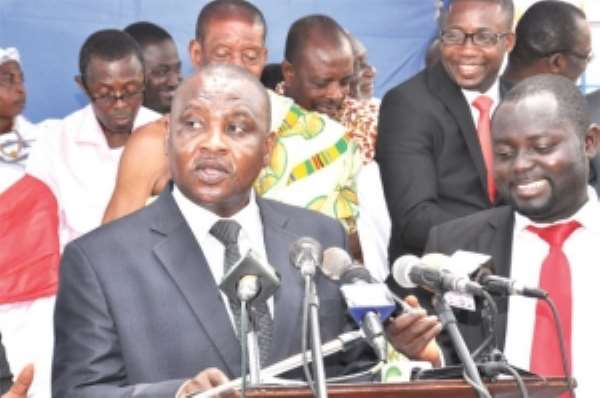 A Deputy Minister of Education in charge of Pre-tertiary Education, Mr Alex Kyeremeh, has reiterated the pledge by the President to equitably distribute the country's resources.
He said teachers would not be left out in the quest by the government to ensure the equitable distribution of resources.
Mr Kyeremeh was speaking at the inauguration of the national headquarters of the Coalition of Concerned Teachers (CCT) in Accra last Friday.
He advised members of the CCT not to make over-ambitious demands but observe the rules and regulations in the teaching profession. Grievances 
The Deputy Chief Executive Officer of the Fair Wages and Salaries Commission (FWSC) in charge of Salary Negotiations and Grievances, Mr Cornelius Yawson, advised the CCT to follow the legal process when they had grievances.
He promised that the FWSC would work in partnership with the CCT to ensure that all teachers' grievances were addressed. Cooperation from Education Ministry
A Deputy Minister of Education in charge of Tertiary Education, Mr Samuel Okudzeto-Ablakwa,  said the Ministry of Education was committed to partnering teachers to ensure quality education.
He stressed that the only way to fight poverty and the challenges confronting the nation was through education.
He commended the leadership of the CCT for its transparency and quest to promote quality education. President of coalition
The President of the CCT, Mr Ernest Opoku, served notice that the coalition would not shield any member who would bring the teaching profession into disrepute.
"Though some teachers are not living up to their responsibilities, a great majority are doing extremely well and must be acknowledged and rewarded accordingly, especially those in remote areas," he said.
Mr Opoku appealed to the government to pay all salary arrears owed teachers, adding, "We are still waiting for the government to make the payments."