Minister calls on churches to support gov't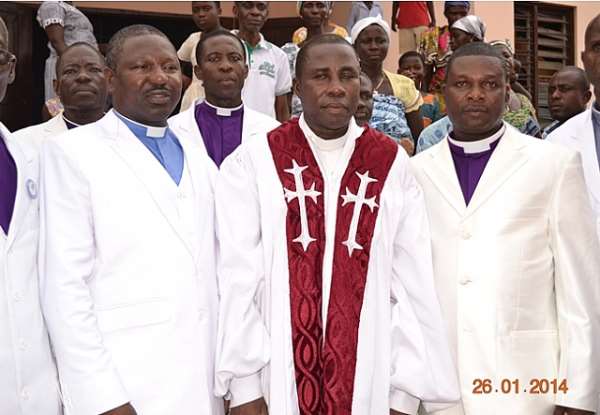 Western Regional Minister, E.K.T Addo has appealed to churches and religious organisations in the country to support the efforts by government to make life less burdensome for the people.
Mr. E.K.T Addo therefore stressed the need for churches to play their required roles to make governance a smooth one.
The Minister was speaking at Tarkwa during the induction ceremony of  Apostle Ebenezer Boahene as the new Chairman for Christian Divine Church.
According to Mr. Addo, the church and the state are not two independent components opposing each other and therefore, the two could always work together to bring progress in the lives of every Ghanaian.  
In a speech read on her behalf, the Chief Justice, Georgina Theodora Woode, advised Christians to lead exemplary lives in the society for others to emulate.  She also stressed on the need for Christians to live peacefully among themselves and urged them to chose peaceful means in resolving disputes.
In his sermon, the newly inducted Chairman of the Church, Apostle Ebenezer Boahene noted, disunity and divisions among Ghanaians are the bane of the nation's development.  Apostle Ebenezer Boahene called on Christians to eschew vengeance and promote peace. 
Co-founder of the Church, Madam Dorcas Taylor who is 102-years of age, attended the function and prayed over a special gown to be worn by the new Apostle.  Legal Advisor of the church, Jacob Arko Saah led the new Chairman of the Church, Apostle Ebenezer Boahene into administering the oath of office. 
Special prayers were offered to the new officers inducted into office by the Area Head of the Church of Pentecost, Apostle Dr. Stephen Baidoo and other Ministers in attendance. 
Other dignitaries included; ACP Paul Ayitey who represented the Inspector General of Police, Mohammed Alhassan; Deputy Minister of Trade and Industry, Nii Lantey Vanderpuye and the MCE for the Tarkwa Mrs Christina Cobbina. The rest are the High Court Judge for Tarkwa, Justice Kwame Ohene Essel and Chiefs in the Tarkwa Municipal Area.