KNUST Veterinary School to get permanent structures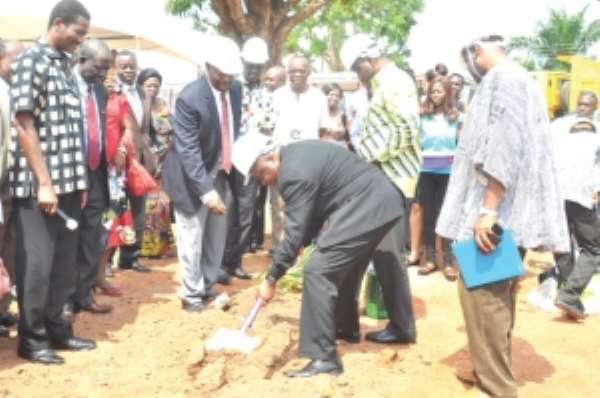 A ceremony has been held to mark the construction of permanent structures for the Veterinary Medicine School of the Kwame Nkrumah University of Science and Technology (KNUST).
The school is expected to train veterinary doctors for Ghana and the West African sub-region. Currently, it has a student population of 65.
The GETFund has already provided GH¢5 million for the first phase of the project which includes a veterinary teaching hospital, lecture halls, laboratories, an ICT centre, a library, a research centre, administration block and a hostel for clinical students.
Officials of the KNUST could not give the cost of the project and when it would be completed because its construction is scheduled to be in phases.
Meanwhile, the Ministry of Food and Agriculture has presented computers, accessories and laboratory equipment to the school.
Performing the sod-cutting ceremony, the Minister of Food and Agriculture, Mr Kofi Humado, expressed worry about the low number of veterinary doctors in the country. Lack of veterinary doctors
The lack of veterinary doctors, Mr Humado said, had made it "almost impossible to adequately monitor, prevent and control infectious diseases which have economic and public health implications".
He said the inadequacy had made it difficult to deal with emergencies and recurring challenges such as the recent outbreak of African swine fever, avian flu, salmonellosis, anthrax, rabbies, foot and mouth diseases.
Mr Humado added that more than 90 per cent of the veterinary doctors working in Ghana were trained outside the country and  those in active service were less than 100. To address the problem, he said, the government had recalled all veterinary doctors on retirement to work on contract basis to cater for the shortfall of 300 required for the sector. Training
For his part, the Vice-Chancellor of KNUST, Professor W. O. Ellis, said the university responded to a request by the Ministry of Food and Agriculture to establish a School of Veterinary Medicine to run a six-year Doctor of Veterinary medicine programme. Unfortunately, the veterinary students had been using  facilities in other schools and faculties for their pre-clinical training sessions which were not tailor-made for veterinary medical training purposes.