Offinso NSS donates to disabled, Deso community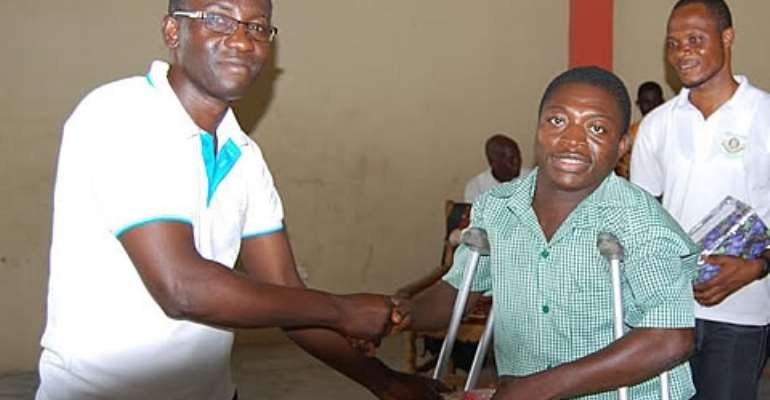 The Offinso Municipal Secretariat of the National Service Scheme put smiles on the faces of the underprivileged by making donations to them on Valentine's Day.
The needy and destitute in the Deso and the Physically Challenged School, both in the Municipality, benefitted from the donation. 
At the Deso community, six people suffering from severe physical impairments received items including rice, oil, sugar, washing soap, cartons of Milk, Mats, Mosquito nets, and sardines.
Other items including used clothing and toiletries were also distributed to residents of the community.
Presenting the items, the Municipal Director of the National Service Scheme, Mr William Bediako Asante, said the donation was in recognition of his firm belief that the privileged in society owed it a duty show love to those who were not so privileged.
He said it was important that on occasions such as Valentine's Day, all Ghanaians showed love to one another especially the under-privileged.
"There are many people who only need a smile and a touch of love from us to be encouraged to move on and we should not deny them that," he stated.
Mr. Asante used the opportunity to exhort parents to make the needed investments in the education of their children, saying that was the only way to guarantee their future and growth of the nation.
At the Physically Challenged School, Mr Asante was visibly touched by the plight of the students and pledged the support of National Service and his personal support on regular basis.
He advised parents and families not to abandon their wards at the centre because of their disabilities.
He expressed regret that many of the students were not receiving visits from family members.
The school was presented with rice, cooking oil, toiletries, glue, washing soap, Bibles, Iron, gari, used clothing among others valued at GH¢ 3,500.
The Principal of the school, Barima Antwi was expressed gratitude to Secretariat for the kind gesture and asked for more of such assistance.
The Assemblyman for the community, Mr. Alhassan Ibrahim, appealed to government to establish a basic school there since children walk for over 4 kilometers to go to the nearest school.