Free Zones Chases Squatters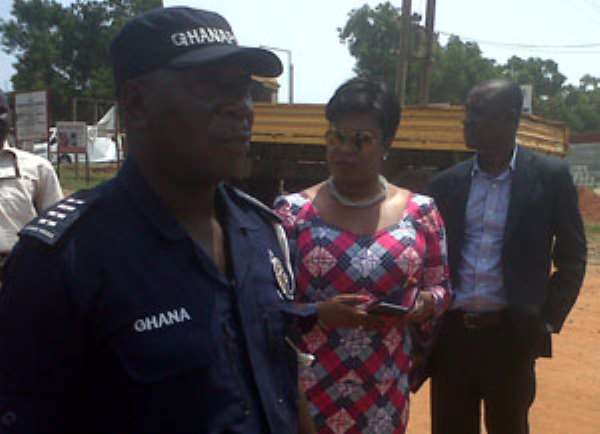 Obuobia Darko Opoku on a visit to the encroached land yesterday

The Ghana Free Zones Board (GFZB) has served final notice to squatters operating on its land at Tema Community 21 to vacate before February 21, 2014 or face forceful eviction.
This is to allow for an investor to develop the land into a world-class residential enclave beginning March this year.
Acting Deputy Executive Secretary of the Board, Obuobia Darko-Opoku, at a press briefing in Accra yesterday, explained that the 152-acre land had been earmarked for residential and related purposes by Government in 1997.
According to her, encroachers had made it difficult for the Board to undertake any development project on it.
Ms Darko-Opoku said several warnings given to the squatters over the years to vacate the land yielded no result. As a result, 'we are giving the encroachers who have still not vacated the land, final warning to do so or face the consequences'.
She said, 'A drawing and a proposed land use plan have been presented by the investor who has already made some financial commitments'.
She added that the development of the residential enclave would create jobs for artisans like masons, carpenters, painters, welders, plumbers and other professionals in the real estate industry.
When DAILY GUIDE visited the site, the squatters, mostly mechanics, had pulled down several portions of the barbed wire fencing the place to gain access in order to operate from there.
Notices mounted at vantage points which warned trespassers to 'keep off' the land, had also been vandalized.
Some of the encroachers who spoke to DAILY GUIDE in an interview confirmed that they were aware the land belonged to the GFZB.
However, they pleaded that the GFZB should give them more time so that they could adequately prepare and move away.
Others too pleaded with Government to come to their aid since they would be losing their jobs when they were finally evicted.
By Cephas Larbi