Organic fertiliser products launched in Accra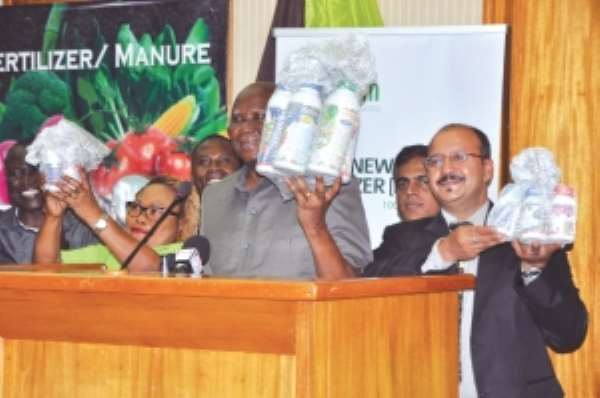 The Minister of Fisheries and Aquaculture Development, Mr Najon Bilijo, has called on fish farmers to take advantage of emerging technologies to increase their production.
He also called for private sector partnerships to modernise aquaculture to help create employment and wealth in rural areas.
The minister made the call when he launched a range of organic fertiliser products in Accra on Wednesday.
The introduction of organic fertiliser for both aqua and crop cultivation is aimed at ensuring sustained production and food security.
Mr Bilijo said the government was pleased to note that private sector players were in discussions and collaborating to establish an ecosystem-based approach to aquaculture development in the country.
The President of the Ghana Federation of Agricultural Producers, Dr King David Amoah, in an address, said Ghana was one of the lowest users of fertiliser in the world.
The Chief Executive Officer (CEO) of Sky Platform, distributors of the organic range of fertilisers, Apostle Killian Carr, said the fertilisers were going to usher the country into a green revolution. Pilot project
The National Co-ordinator of  the United Nations Development Programme (UNDP) Global Environmental Facility Small Grants Programme (GEF/SGP), Mr George Ortsin, said before the launch of the organic fertilisers, a test were carried out in the Greater Accra, Volta and Brong Ahafo regions on tomatoes, okro, pepper, garden eggs and tubers, which showed improved yields. Ghana-Indian partnership
The Director of Rayleco Enviro Engineering Private Limited (REEP) of India, Mr J. B. Venkata Krishnan, said with the introduction of the range of fertilisers, there was the possibility of setting up a factory in the country.
He said India was ready to partner Ghana to increase the use of organic fertiliser in the country.
REEP is the partner company of Sky Platform, local distributors of the organic range of fertilisers.
Writer's email: [email protected]