'Cattle' at Chorkor was sacrificial cow in Winneba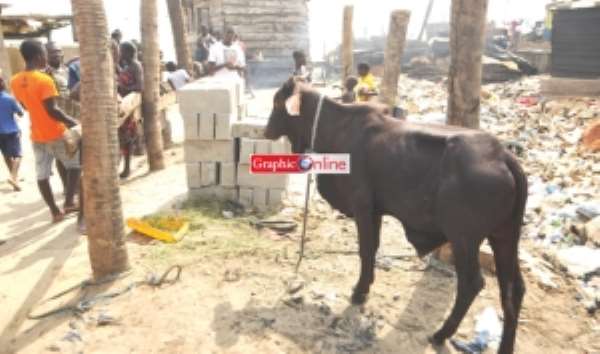 It has emerged that the bull which was found in the sea at Chorkor yesterday had been offered as sacrifice to the gods by the people of Winneba a few days earlier.
According to the Chorkor Wulomo Chief Fisherman, Nii Kukurudu, when a delegation from Chorkor was about to go to Winneba yesterday, a delegation came from Winneba to Chorkor.
Nii Kukurudu indicated that the delegation from Winneba informed them that the bull was sacrificed to their gods live, as a result of which it was left into the sea.
"However, the delegation from Winneba could not give a good description of the bull and so we asked them to go and come back another time," Nii Kukurudu told the Daily Graphic in an interview.
The Chief Fisherman added that the delegation from Winneba told him that since they had made the sacrifice to their gods, they needed it no longer.
"Meanwhile some people from Sukura also insist that the bull be handed over to them," he added.
He said the Wulomo had been invited to perform rituals today and also advise them on the next step to take. Background
When fishermen at Chorkor, a fishing community in Accra, cast their net for a catch last Wednesday morning and experienced some heaviness in the net, their joy was that they had a bumper catch, only for it to turn out that the heavy catch in the net was a bull.
That incident caused a stir in the community, as children, market women and people from all walks of life trooped to the beach to catch a glimpse of the mysterious bull caught at sea.
The huge bull with large horns appeared healthy when it was caught and occasionally 'mooed,' much to the surprise of onlookers who could not keep their distance  from the 'wonder bull'. 
That brings to two the number of terrestial animals caught at sea by fishermen this year. 
The first one, a deer, was trapped in the fishing net of fishermen at Ekon in the Central Region.
According to eyewitnesses, the fishermen had cast the net around 3 a.m. last Wednesday and returned to pull out their catch around 6.30 a.m.
Overjoyed by the prospect of a heavy catch, they pulled the net amidst singing, but their excitement turned into astonishment when they discovered a bull in the net, instead of a shoal of fish. 
The mysterious bull was subsequently drawn to the shore.