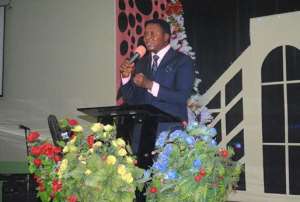 Bishop Dr. Matthew Omodiagbe is the founder and Presiding Bishop of world class ordained ministry of God called "Liberation Word Evangelical Ministries International" whose headquarters is located at Arumor Street Ajegunle in Lagos State. He was born into a humble family of Omodiagbe from Edo State.
As a young man growing up in a humble family, he knew what he wanted and pursued his God given vision in Life. He had a successful primary and secondary education and later proceeded to a well- known polytechnic to acquire his certificate. As a young man that has love for spiritual, motivational and creative books, he furthered his higher education to acquire more certificates in life. Though, has fate will have it, he never envisaged that one day he would become a notable God's General in Nigeria and Ajegunle making a distinguished difference among his peer groups.
The few times I have attended his Ministers' conference and office when I was still living in Ajegunle, I discovered that he is a minister of God with vision to move Ajegunle community to the next level in life. He has developed great minds with his visionary prowess in God's kingdom over the years. After graduation from the higher institution, he worked briefly with a public sector in Lagos where he got his divine calling to start his God's own ministry.
Bishop Dr. Matthew Omodiagbe is a man with creative and intellectual vision and never deterred of his challenges in life. He attended one of the best Christian universities in Nigeria and joined one of the fast-growing Pentecostal churches where he was an active minister of God before he was called upon to start his God's own ministry. No allegation of breaking out of a church has ever leveled against him because he left his former ministry with clean hands. His soaring rise in the Pentecostal ministry not just started today but he suffered to attain success in life. He is one of the Ajegunle pastors that started from nobody to somebody. He belongs to the University Success and determination. Every liberation members is eager to make it in life because of the teachings of our great Bishop of our time.
Bishop Dr. Matthew Omodiagbe received the vision for Liberation Word Evangelical Ministries International in the early hours of December 26th 1993. As fate will have it, he held his first church service at his one room apartment at Alayabiagba Street located in Ajegunle Apapa Lagos with 4 people, two were unbelievers and the other were members of other churches on the 21stMay 1994. He was never moved and ready to face the unknown circumstances in ministry. He got the calling of God in his life and resigned from all former engagements to pursue God's kingdom than earthly desires of life. He is popularly called by his Christian admirers as" the progressive liberator" while some called him "Papa". If you have stayed under his ministration once or twice you will know that Bishop Omodiagbe is a change preacher with distinction and in-depth knowledge of the Holy Spirit and the Holy Bible. He is a veteran preacher with mission to accomplish. He has supported many young people marriages, youth employment and others. He has received several world-class awards and invited to intellectual conferences to deliver lectures and others. His ministry has blessed many souls in all ramifications. He started his ministry from one- room apartment in a slum street of Ajegunle and moved to a primary school where he acquired a water-logged venue where only few with God's vision can succeed. Arumor is one of the swamp and slum areas of Ajegunle then, but today Liberation Word Evangelical Ministries International has made the water-logged as a paradise of where top preachers of the world have been invited to minister and the road has been tarred with great renovation of buildings while other churches are sited along the same venue too.
Bishop Matthew is a man with intellectual and spirit-filled wisdom to exploit. Nobody ever envisaged that the ghetto pastor will one day be reckon with among world class preachers like Bishop Leonard Umunna, Dr. D.K Olukoya, David Oyedepo, Chris Charles, Chris Oyahkilome, Dr. Isaac Idahosa, Taribo West, Matthew Ashimowolo, Williams Kumuyi, Tunde Jorda, Bishop Okonkwo, Archbishop Joseph Ojo, Vincent Igbokwe, Enoch Ilamobayo, Chris Matthew, Chris Okotie, Tunde Bakare, Bishop Peter Andrew, Silas John and just mention but a few. He has also invited couples of these highly respected ministers of God to his ministry with excellent programmes and testimonies. He believes on ministry than church. He has travelled far and near including USA, London, South Africa and other notable countries to minster the gospel of Christ. Liberation Word Evangelical Ministries is one of the fast-growing ministries in Nigeria and Ajegunle. He is called to teach the word of God and transform lives at all levels. Some of his, dedicated members where nobody, until God used Bishop Omodiagbe to transform their lives from nobody to somebody, including ministers of God. Bishop Omodiagbe worked hard to see that Liberation ministry is reckoning at all levels of ministerial growth.
Again, he has authored over 6 books sold all over the world. His books are liberators of the world. He is one of the great motivators that Pentecostal Fellowship of Nigeria (PFN) has ever produced on this planet earth. Nobody that worships with Liberation Word Evangelical Ministries without experiencing a significant change of life. His weekly activities and Sunday services has blessed many souls in Nigeria. Today, Liberation Word Evangelical Ministries has many branches located across Nigeria and abroad. He is not moved by what people say about him but he is moved by what God say about him. He never allowed his trying period to deter his calling because he had a virtuous wife, Pastor Gloria Omodiagbe, the President Women of Purpose and founder of Brainers Academy a cutting-edge Christian secondary and primary school. She is also a world class renowned motivator, teacher, educationist and conference speaker who stood by her husband. Bishop Omodiagbe has featured in most Christian programmes like the Hosanna hour where his messages are transforming and motivating. He is also a publisher of a notable Christian magazine that reports the programmes of the ministry and other creative issues that affects lives in the world with spirit-filled columnists edited by formerly by one Mr. Bassey.
Liberation Word Evangelical Ministries brought light of God to Arumor Street, today Arumor Street is tarred and one of the known streets in Lagos state. He has sat with top ministers of God in most organized Christian conferences whose views and opinions are respected and honored. Bishop Omodiagbe has positively impacted lives in Ajegunle and beyond. Anybody that passes through Bishop Omodiagbe's tutelage will always succeed in ministry except such minister of God or member defrauds his or her calling. He is one of the well-known Ajegunle pastors who have travelled across the globe with reputation. His books are well-read and distributed across all notable book shops in Nigeria and abroad. A service that started with only 4 members is now having over 1500 members to his spiritual credit and his ministers are well paid.
His recent introduction of Minsters conference in Ajegunle which program holds every second Thursday of the month which membership strength is over 100. This program is all about teaching pastors on how to run their ministries successful without stress. It is a conference to attend because other great Ajegunle ministers also speak in his platform with questions and answers. He believes that ministry growth depends on how the pastor that has the call received the message and work with it. Liberation Word Evangelical Ministries is also known as the moving generational church in the end time. He is a down-to-earth minister of God with vision. He is one of the Presiding Bishops in Nigeria that has respect for younger pastors under his mentorship. All his ministerial programmes from the past and present are divinely connected with the holy spirit of God. He is a great motivator of our time.
Finally Bishop Dr. Matthew Omodiagbe is the father of fathers, writer of writers, motivational speaker of speakers, mentor of mentors, adviser of advisers, author of authors, marriage counselor or counselors, preacher of preachers, changer of changers, liberator of liberators, Evangelist of Evangelists, teacher of teachers, role model of models, Bishop of Bishops, instructor of instructors and many more. He is happily married to a God-sent wife Pastor Mrs. Gloria Omodiagbe and blessed with lovely children.
Godday Odidi. Public Affairs Analyst. 08058124798. Lagos