NPP Acid Victim Successfully Undergoes Surgery
Says He's Most Grateful For Kind Gesture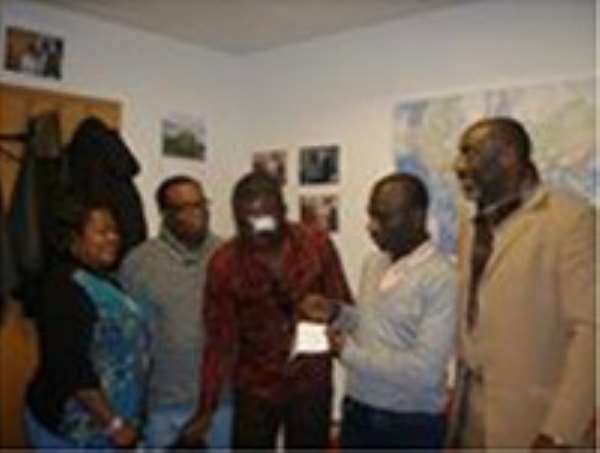 It's so fresh in our minds but it all happened in the run-up to the 2012 election, when Mr. Peter Mensah from Techiman in the Brong-Ahafo Region, who represented Professor Ameyaw-Akumfi at a peace talk organised by the Methodist Church, was followed by some NDC hooligans and attacked him with acid, on his way home.
The NPP party has remained resolute till now on their support for the dedicated young man.
It's clear that the NDC is a party that only believe and support violence to cling on to power. It's not a surprise to most Ghanaians, as the party was formed through bloodshed. The founder and owner of the party, John Jerry Rawlings seized power through the barrel of the gun. Innocent Ghanaians were killed by firing squad and on the streets. Families became victims of his so-called revolution through which his party the NDC was formed. No wonder a member of his party poured acid on Mr. Mensah because he is not a member of the NDC.
When the campaign started, it was genuine enthusiasm that Ghana has made a lot of progress and our democracy has matured, and has achieved a certain political maturity that we have all learned some lessons from the past. But that was not what the NDC as a party has learnt. When a country´s adherence to democratic practices is determined, then pouring acid on a political opponent should have been a thing of the past. Until the NDC learn from the rest of their political opponents by not violating the rights of their opponents, no one is safe in Ghana. Democracy is a dynamic process and it is only successful when a party like the NDC recognise their mistakes and amend their ways.
The kind gesture I am talking about occurred when a delegation of the NPP German branch headed by its Vice-Chairman, the Rev. Alex Acheampong visited Mr. Mensah at home where he is residing and receiving treatment in Freiburg, Germany. Other members of the delegation were as follows.
• Mr. Omama-Yeboah: Deputy National Organiser Germany.
• Mr. Alex Aiddo: A member of Council of Elders Frankfurt Chapter
• Mrs. Recca Grote: Deputy Women Organiser Frankfurt Chapter.
The delegation presented an amount of 500 Euros to him, and that is in addition to the 500 Euros which he has already received from NPP Germany. The Frankfurt Chapter also gave him additional 200 Euros, and Mr Omama-Yeboah, the Deputy National Organiser also gave him a golden wrist watch as a personal gift. This wrist watch gift is akin to telling Mr. Mensah that time heals wounds. The Frankfurt Chapter promised to support him with some items before he leaves for Ghana. Kudos to them.
The NPP especially the German Branch wish him a speedy recovery.
Alex O. S. Tuffour
National Communication Director
German-Branch NPP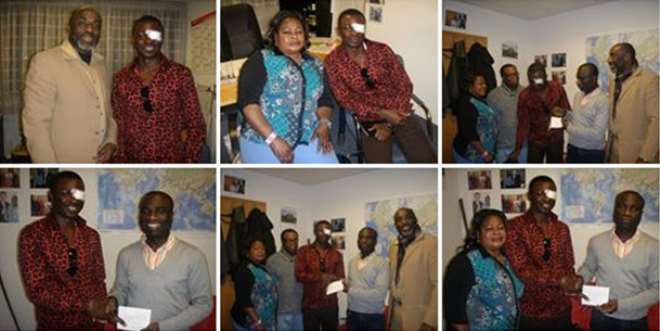 After Surgery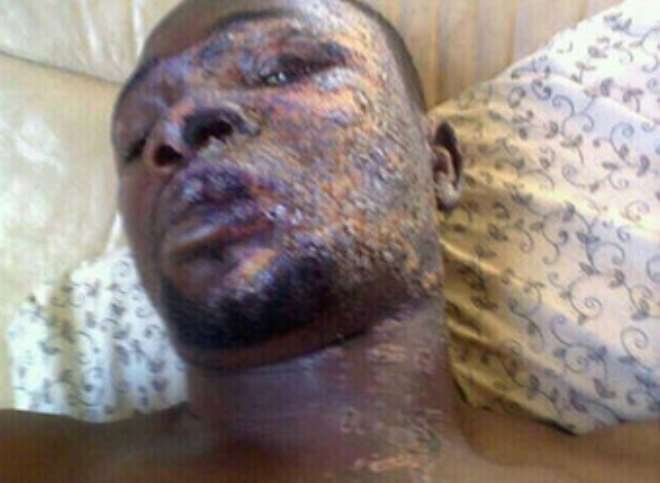 Before Surgery