Communities urged to fight against mining in Bonsa River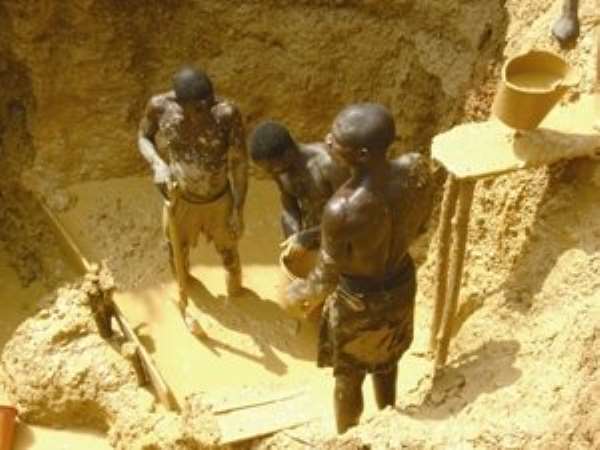 Illegal Mining pix
Tarkwa, Feb.13, GNA- The boss of a non-governmental organization has appealed to communities living along the Bonsa River in the Tarkwa Nsueam Municipality to fight against illegal mining operations in the Bonsa River.
These illegal miners who have erected dredging machines in the river operate between Bonsa and Esuoso and have polluted to river to levels that are not acceptable to the World Health Organization.
Mr. Solomon Kusi Ampofo, project officer for Friends of the Nation, a non- governmental organization, said this when Business Sector Advocacy Challenge (BUSAC) supported Pure Fm, a private radio station based in Tarkwa, organized a dialogue for some stakeholders as to how to identify strategies to halt illegal mining activities in the Bonsa River.
Some of the participants at the meeting were from Minerals Commission, Environmental Protection Agency, Ghana Water Company Limited, assembly members and a representative from the Tarkwa Nsueam District Assembly.
Mr. Ampofo said in 2012, BUSAC gave assistance to Pure Fm to enable them undertake a study on the impact of illegal mining activities in the Bonsa River and how to address the problem.
He said their investigation revealed that the cost of treating water for people of Tarkwa and its environs as well as maintenance of equipment for Ghana Water Company Limited was becoming expensive daily.
He said most sachet water producers cannot get quality water to treat adding that this was affecting the business activities in the municipality.
He said because the water is highly polluted those living along the river had to use sachet water for their domestic activities which most of the citizens cannot afford.
Mr. Ampofo said to address the issue they would inform the security agencies and to ensure that they achieved their aim of eliminating illegal mining especially in water bodies, sensitization programme would be organized for chiefs, assembly members and the custodians of the land on the implication of the operations of illegal miners.
Mr. Bernard Owusu Ansah, Chief Executive Officer for Pure Fm, called on those living along the Bonsa River to assist in ending the activities of illegal miners operating in and around the Bonsa River.
GNA