Spanish exclave migrant drowning toll rises to 11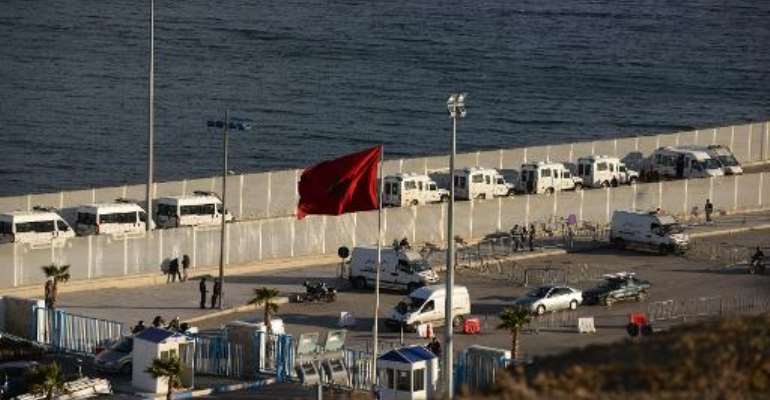 Madrid (AFP) - Police found the body of a migrant on a beach in Ceuta Wednesday, bringing to 11 the number of people who drowned trying to swim to the Spanish exclave from Morocco, an official said.
Officers discovered the body of a man in his twenties at Ceuta's Tarajal beach, a spokesman for the Spanish government's delegation in the territory said.
He is one of hundreds of sub-Saharan African migrants who tried to enter Ceuta on Thursday by swimming from a beach in neighbouring Morocco, the spokesman added.
"The body was found this afternoon, it was washed ashore by the currents. Police have been combing the beach since Thursday's events," the official said.
Interior Minister Jorge Fernandez Diaz will appear before parliament on Thursday to discuss the deaths after rights groups and Spanish media cited migrants who alleged that police fired into the sea where they were swimming.
Spanish authorities said civil guards in Ceuta used rubber bullets to ward off the migrants but that they fired them in the air and did not target anyone directly.
The director general of the civil guards, Arsenio Fernandez de Mesa, defended the force during a visit to Ceuta, telling reporters that officers had acted "impeccably".
"I have asked them to stay the same to maintain law and order, to contain the flood of people manipulated by mafias that try to defeat the rule of law and guarantee security inside national territory," he added after meeting with civil guards in Ceuta.
Fernandez de Mesa said the civil guards would take legal action against anyone who "has insulted, slandered or made false allegations regarding the events of the last few days."
Demonstrations are planned in Madrid and several other Spanish cities on Wednesday night to protest against the deaths and call for a probe.
The bodies of eight men and a woman were found on a beach in Morocco near Ceuta on Thursday. Spanish police found the body of another man on a beach in Ceuta on Saturday.
Morocco, under pressure from Spain, is trying to stem a stream of sub-Saharan African migrants, who head to its northern shores in a desperate quest to reach mainland Europe.
Ceuta and Melilla, Spain's other exclave in Morocco, have the European Union's only land borders with Africa.