Despair stalks Burundi's flood survivors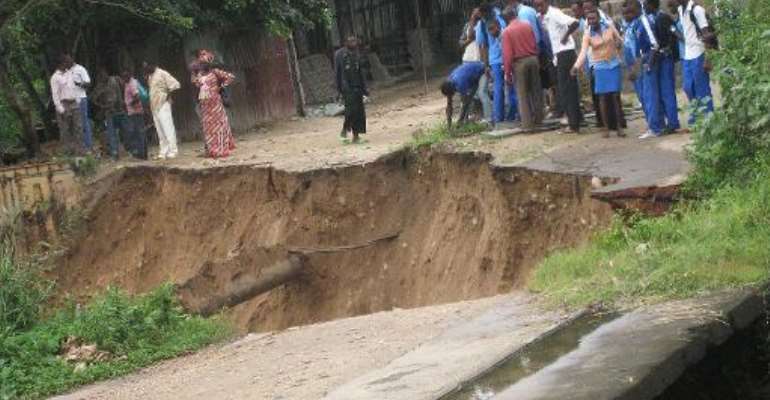 Bujumbura (Burundi) (AFP) - Esperance Niyonzima, a young mother, was curled up asleep with her newborn baby, rain pounding on the tin roof of her house, when she heard a terrible thudding noise.
"A massive wave washed us both out of the house. My baby was washed away -- I wasn't able to hang onto him. We found the body down there at the bottom of the hill," she recounted, still struggling to come to terms with her loss.
Niyonzima, 21, lives in Gatunguru, a settlement on the northeastern outskirts of Burundi's capital Bujumbura and the part of the city hardest hit by the torrential rain that lashed the capital on Sunday and Monday.
Burundi's Red Cross said 60 bodies had been found by Monday afternoon, most of them children, either drowned in freak floods or crushed when their homes collapsed on top of them. A further 80 people were injured.
On Tuesday rescuers found the bodies of two more children, little girls of around 10, local residents said.
"A great wall of water came from over there, transporting stones, trees, mud and I don't know what else. It came from the hills up there and it washed away everything in its path," said Jean Ngeze, a local manual worker.
He pointed to a channel some 40 metres (130 feet) wide left by the water as it rushed through the settlement sweeping away houses, cars, people and furniture as it went. Large rocks, chunks of concrete and bits of furniture protrude from the mud.
Houses are still standing on either side of the channel, although their foundations have been weakened.
"We were at home when the water came. It washed away whole houses, people... it's a nightmare," Speciose Ntirampeba recounted in a still trembling voice, her face bruised and cut by bricks that the giant wave flung at her.
Ntirampeba, a widow of 53, has been left with nothing.
"Even the clothes I'm wearing were given to me by friends," the mother of 10 told AFP, pointing to a cotton wrap-around skirt.
Dieudonne Nzeyimana, 33, saw his two children washed away. His daughter was found alive the following morning with just superficial injuries.
"My son is still missing and my wife has a broken arm," he said, despair mounting in his voice. "I've lost my house, the little shop I had, my money, everything."
"Tell the good Samaritans, tell the authorities to come and help us, otherwise we'll soon die of hunger," he said.
The authorities bore the cost of burying 60 victims who had to be interred straight away on Monday because the city's mortuaries did not have enough room for so many bodies.
The small central African nation's government has also promised to pay hospital bills for the injured and to re-house those left homeless, but victims said they had so far seen little action.
The Red Cross has counted more than 1,000 homes washed away and estimates that some 10,000 people have been made homeless.
Patrick Mvuyekure, a 40-year-old mason, had his house washed away. He and his wife and five children managed to squeeze into a neighbour's house on Monday night.
But they have now decided to sleep in the open air because the neighbour's house has developed cracks in the walls.
"As soon as it rains again that house will collapse," he said.
His biggest fear is disease.
"The toilets got flooded and then there are dead animals and probably still bodies buried under collapsed houses. If nothing is done we're looking at a cholera epidemic," Mvuyekure said.