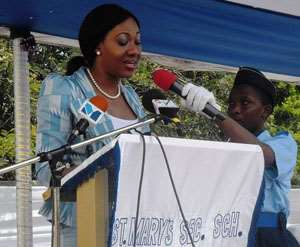 Jean Mensah delivering her speech
The Executive Director of the Institute of Economic Affairs (IEA), Jean Mensah, has fired up girls to strive for greater heights as she demands of society to instil into them 'an unshakeable sense of self-worth.'
Mrs Mensah was speaking during the school's 64th Speech and Prize Day last Saturday in Accra under the theme: 'Protecting Adolescent Girls: A Priceless Investment'.
She hinted, 'As custodians of these precious assets in our care, our priority must indeed be to protect, to prepare and to empower our adolescent girls,' she said after lamenting the erroneous presentation of the feminine sex in the media.
The most effective way to empower and prepare girls she said, 'Is to nurture their own potential and offer them the lessons we have learnt about how to engage wisely and constructively with the realities of this life. It is a simple role, a lifelong role; a God-given role.'
'What should be your role in this effort at protecting and empowering you?'she asked rhetorically.
'In whatever you do. Whether it is making a bed, or preparing for an examination, whether it is tidying up your corner or typing out an assignment, let excellence be your guide. Don't ask yourself, how are other people doing this? Instead, ask yourself, am I doing this in the best way I possibly could?' she said.
She also charged girls to strive to be the best in every aspect of their lives because 'you can be the best whether in education, in sports, in expressing your cultural heritage or in carrying out vacation jobs.'
Girls, she went on, should avoid questioning themselves as to whether they could match up their friends but should rather 'ask your reflection, what image am I portraying of my youth and my womanhood by my attire today and the way I am carrying myself?'
In her speech to the old girls of the school, Mrs Mensah charged them to continue to play their roles in making sure the aim of empowering girls in the society was achieved.
'We have stayed as hidden shadows long enough. It is high time we came forward and joined hands to help inspire our daughters and granddaughters who now occupy the seats we did so many years ago. In our days, we had role models that we looked up to. It's now our turn to be role models these young ones can look up to.'
The Headmistress of the school, Ms Doris A. Bramson, charged the entire students body to uphold discipline in high esteem as had been instituted by the Catholic Church.
'Today, when the teenage girl is distracted on all fronts by the glitz and glamour of modern day sophistry, there is every need for them to be guided to make the right and informed choices.'
She applauded the disciplinary committee and prefectorial body of the school for living up to expectation by 'putting recalcitrant students on the straight and narrow path, thereby, helping to maintain order among the students body and sanity in the school.'
The school recorded 100% passes in 16 out of 21 subjects, according to the 2013 WASSCE results released recently.
By Edem Tamakloe