Canadian Delegation Visits UNICEF And WFP Project Sites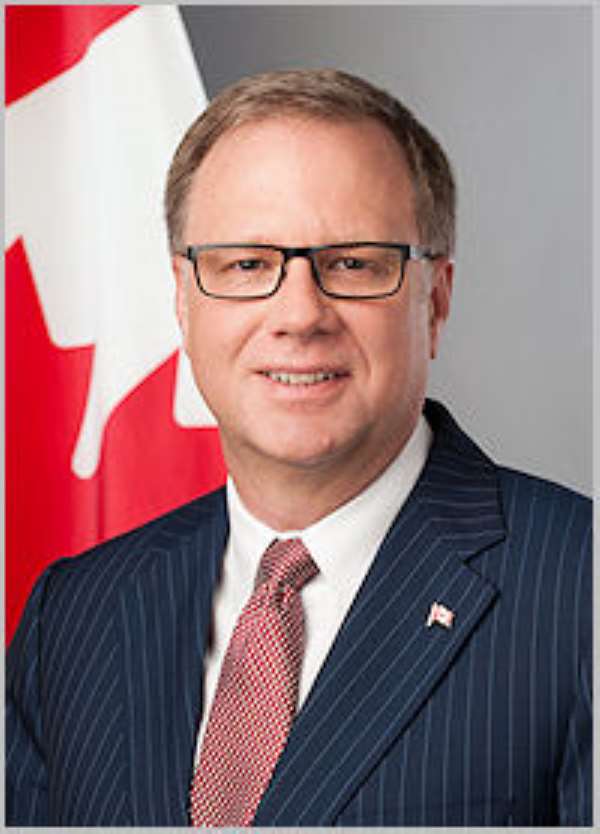 A high level Canadian delegation made up of the Canadian High Commissioner to Ghana and the Deputy Minister of International Development, undertook a field mission to UNICEF and WFP project sites in the Northern Region, to assess the impact of their contributions on the lives of vulnerable people in Ghana.
 Between 2012 and 2016, the Government of Canada is investing nearly 24 million Canadian dollars to support UNICEF in nutrition and enhanced water, sanitation and hygiene services in schools and communities in five regions of Ghana – Northern, Upper East, Upper West, Central and Eastern.
Funding from Canada also supports WFP-assisted programmes  in nutrition, school feeding, assets creation projects which build communities' resilience to climate change, and the Purchase for Progress (P4P) initiative which is increasing smallholder farmers' knowledge and access to markets.
 In Gbandu community, the team visited a Community-Led Total Sanitation, and environmental project which respectively, discourages open defecation, and promotes sustainable environmental management.
The team got an understanding of the challenges facing northern Ghana - vulnerabilities, inequities, food insecurity and regional disparities, with linkages to environmental degradation, bush burning, drought, poor sanitation, hygiene and undernutrition.  Under the leadership of the Chief of Gbandu, the team discussed community efforts in response to the challenges.
 The team continued to the Nyankpala health center in Tolon district, where UNICEF and WFP work together to address severe and moderate acute malnutrition in the outpatient clinic established with Canada's support. Currently, WFP and UNICEF are in the process of working to formalize a Memorandum of Understanding which will engender convergence and synergy in their approach to tackling the myriad of nutrition issues in northern Ghana.  While at the health facility, the team received first-hand information of nutrition-sanitation linkages. 
 The Canadian team also visited the Suglo Kongbo Farmers' Organization, a group of smallholder farmers in Nyankpala which benefits from the P4P initiative. They learnt how the farmers have been trained to improve their farming practices and the positive impact on their income and food security.
 Canada is investing 80 per cent of its country-specific support in 20 priority countries which were selected based on their needs, capacity to benefit from aid, and their alignment with Canadian foreign policy priorities. Ghana is one of these countries.