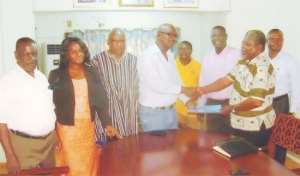 Construction workers are to enjoy a 40 per cent increase in salaries, wages and allowances. The collective bargaining agreement (CBA) to that effect has been signed between the Association of Road Contractors (ASROC) and the Construction and Building Materials Workers Union (CBMWU) of the Ghana Trades Union Congress (TUC).
The salaries and wages cover a period of one year, while the allowances cover a period of two years.
The increment brings the minimum salary and wage from GH¢6.97 to GH¢11.62 or GH¢188.31 to GH¢263.63 per month for workers such as labourers, cleaners, assistant concrete mixers, road markers, among others.
Those in the category of senior operators of graders, excavators, assistant draughtsmen, surveyors, among others, have had their salaries increased from GH¢9.50 to GH¢15.96 per day or GH¢359 per month.
Foremen of works and their analogue counterparts will now receive GH¢16.86 daily or GH¢455.11 monthly, instead of GH¢10.03 daily or GH¢270.92 per month.
Allowances have also gone up by 40 per cent and cover risks, tools, working kits, motorbikes, protective clothing, among others. CBA signing
The National Chairman of ASROC, Mr Ebo Hewton, and his vice, Mr Daniel Attoh Agroh, and the Greater Accra Regional Chairman, Mr William Apraku Bondzie, signed for ASROC, while the General Secretary of CBMWU, Mr Pius M. K. Quainoo, and two representatives of the construction workers union, Mr Joannes Abaka-Mensah and Mr Patrick Dadzie, signed for the union. 
Mr Hewton stated that the construction industry had faced a number of challenges in recent years, particularly in 2013 when the government delayed for between 12 and 18 months before paying contractors executing its projects.
Writer's email: [email protected]