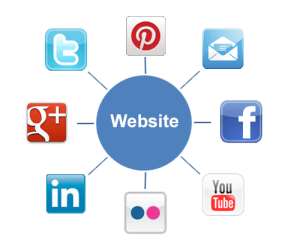 IMANI has for the last four years appraised Ministries, Departments and Agencies of Government (MDAs) with a view of ranking the best 5 MDAs and the worst 5 MDAs according to pre-defined criteria. That process has led to the annual release of IMANI's Most Inspirational Public Sector Leadership Awards. The 2013 version will be published in next week.
For the year 2013, IMANI's evaluation team decided to go a step further and also determine other important benchmarks of openness in order to ascertain whether these MDAs were open enough to warrant Ghana's claim as the gateway to Africa. `
One of the major indicators to that effect has been web presence. Web presence in this direction determines how easy it is to get information about any MDA and its presence on the Internet. Current technological trends and the easy availability of Internet suggest that the first level of engagement any outfit with a service will have with prospective clients will be through the World Wide Web. This will be very easily evidenced by the presence of a website, or a link which will have a brief overview of an agency or ministry's service profile.
The Survey
This survey involved a sample size of 47 agencies, comprising Ministries, Departments and Agencies of the Government of Ghana. Notable among them are ministries such as the Ministry of Information, Office of the President and the Food and Drugs Agency, just to indicate the amount of dispersion in choice of agencies. The full list of MDAs is in the Appendix.
The Parameters
In order to effectively segregate the different levels of interaction online, the evaluation team devised a numerical scoring system, ranging from 0 to 5 Stars. The score of 0 represents no web presence, while that of 5 Stars represents a full engagement with web-based services and technology.
The breakdown of the allocation of scores is as follows:
Scoring Parameters for MDAs and their Web Presence

| | |
| --- | --- |
| Points | Criteria / Component |
| 1 | Existence of a website |
| 1 | Up to date contact information, information on ministers/ heads of institution, information about the services of the organization & its legal frameworks. Appropriate images and videos |
| 1 | Easy navigation on website to sub-pages and downloads that provide information & facilitate private business/ rights |
| 1 | No Dead Links – All tabs, hyperlinked documents and downloads must work. |
| 1 | Response times to web-based enquiries – Are e-mails sent to info addresses responded to within a week? |
| 0 | No Website |
Methodology
A sample size of 47 MDAs were checked. A Google search of the relevant MDA was made, alongside other searches for links or a telephone call to the relevant office. Once the URL of the MDA was obtained, it was inspected to determine among others, the following:
In furtherance of the above, the following activities were initiated:
MDA's of the Government of Ghana identified from a list on the official Government of Ghana webpage : http://www.ghana.gov.gh/index.php/2012-02-08-08-18-09/ministries. Their websites were subsequently identified and collated.

Four sets of criteria were used to assess the websites of MDA's :
• Domain Nam Registry Information
• Whether the URL was functional
• The average number of visitors
• Global Alexa Page Rank
• Bounce Rate
• Social Media Presence (Facebook, Twitter, etc)
• Speed of Response to E-mail Enquiries
• General Content Quality of the Website
• Aesthetics
• e-Services Offered
The findings were then tabulated for further analysis and also to determine if there were any relations or striking patterns in the data gathered.

Key Findings
Ministries without Website Presence:
35% of MDAs don't have a website. A number of MDAs for which information sharing must be a critical component of day to day operations have no web presence, either via websites or social media platforms. Surprisingly, these include very crucial ministries such as the:
• The Ministry of Information
• The Ghana National Fire Service
• The Ministry of Justice and Attorney General
It is quite baffling therefore that the Ministry of Information and Media Relations which is charged with coordinating and disseminating information about the government's programs has no official presence on online media platforms.
The ministry does not manage an official "Ministry of Information" website, nor does it manage a Facebook page. The only Facebook page identified for the ministry of information seems like an unofficial one and was last updated in 2010. According to the ASK team which responded to our e-mail enquiry about the Ghana Ministry of Information's website, the http://www.ghana.gov.gh/ web page was given as the official Government of Ghana webpage, and therefore an extension of that of the Ministry.
This webpage however does not have associated social media accounts. In an era where over 1.6 million Ghanaians or 6.4% of the population and counting are on Facebook alone , this is unacceptable.
Other Government agencies with no websites or social media pages :
A) Ministry of Fisheries and Aquaculture Development
B) Ministry of Chieftaincy and Traditional Affairs
C) Ministry of Employment and Labour Relations
D) Ministry of Environment, Science, Technology and Innovation
E) Ministry of Lands and Natural Resources
F) Ministry of Water Resources, Works and Housing
This situation needs immediate remedy, but also in many ways demonstrates how certain key areas of governance require attention. The Ministry of Environment, Science, Technology and Innovation for example should have had some of the most important showcases related to Ghana's rich unique environment as well as important information that could allow for investment opportunities, but has been neglected.
Ministries like those of Lands and Natural Resources, Employment and Labour Relations, Water Resources, Works and Housing should have had informative platforms as these sectors are seen as pivotal in the economic outlook and attention of the country.
Social Media Presence:
Out of the sample size, only 12.8% of MDAs have Facebook presence. This represents 6 out of the 47 MDAs evaluated.
The table below shows the Facebook pages and the dates of the last posts on the pages. (Last Checked date was 31st January 2013).
Table 1: MDA's with Facebook Pages: Date of Last Post

| | |
| --- | --- |
| MDA page | Last Updated |
| Ministry of Finance and Economic Planning | 30th January 2014. |
| The National Communications Authority | 14th November 2012. |
| The Ghana Standards Authority | 7th January 2014 |
| The Ministry of Foreign Affairs | 27th September 2013 |
| Ghana Water Company | Has never been updated. Users' comments have not been responded to. |
| The Ghana Library Authority | 22nd August 2013 |
| Ministry of Education | 2nd April 2013 |
As shown by Table 1 above only two MDAs, the Ministry of Finance and Economic Planning and the Ghana Standards Authority have updated their Facebook pages in the 2014 calendar year to date.
MDA's with Twitter Pages:

| | | |
| --- | --- | --- |
| MDA | MDA Twitter handle | Last Updated |
| Ghana Police Service | @police_gov_gh | January 29th 2014 |
| Ministry of Energy | @MoEnGhana - | October 8th 2012. |
| Ghana Tourism Authority | @ghanatourismGTA | January 25th 2014 |
| Office of the Presidency | @PresidencyGhana | December 6th 2013 |
|   |   |   |
Only 2 out of 4 Government organizations with Twitter accounts have updated their accounts within the last month.
The loopholes in social media platforms such as Twitter allow anonymous individuals to create unofficial accounts which could be easily mistaken for the official accounts of organizations. Without official Twitter accounts, many government of Ghana MDA's are surrendering their online brands to individuals who may not be interested in providing accurate and unbiased portrayal of MDA's services.

The Electricity Company of Ghana's (ECG) lack of a Twitter account for instance has resulted in several parody accounts which mock the national electricity company's failure to reliably supply power. The ECG cannot provide accurate updates on the status of electricity supply or inform the populace of positive infrastructural innovations in the energy sector.

Some screenshots of ECG parody accounts
Website ownership and Security:
In order to identify the owners of the websites of various government institutions, the evaluation team conducted a domain name search using http://www.whois.com, which is an Internet based domain name checker and registrar. According to whois.com, 3 government institutions do not own the domains which host their websites.
The Volta River Authority (VRA)'s website is owned by Style Interactive/Allen Olayiwola. The Ministry of Mines website is owned by Patrick Ashiadey/KNET Ltd and The Ministry of Local Government and Rural Development's website is owned by eGlobSolutions. This phenomenon could have dangerous consequences for the security of the respective websites. The three Ministries could have their websites deleted by the respective owners and lose their web presence overnight.
Furthermore, since the websites are not owned by the respective ministries they cannot manage the security infrastructure on these website, leaving them vulnerable to attacks from third parties. It is also very easy then for nefarious activity to be conducted with these websites as a conduit since it indicates that malicious users could mimic the site details since the ownership is already in private hands.
Response Times to e-mail Enquiries
Websites and social media accounts are only useful if they facilitate information-sharing, transparency and communication between government officials and citizens.
The evaluation included conducting a rough test of how well websites facilitated the transparency and openness of MDA's by e-mailing the Ministry of Local Government, The Office of the Presidency, The Ghana Investment Promotion Center and The Ghana Commission of Culture. Only the Office of the President replied to an e-mail. It took 6 days to receive a confirmation feedback from the Ministry of Local Government. The Office of the President replied directly to the email in 48 hours.
Government Officials on Social Media:
The following government officials must be commended for maintaining fairly active profiles on social media platforms:
Table 2: Government Officials on Social Media

| | | |
| --- | --- | --- |
| Official | Platform | Most recent activity (Post, Retweet, Comment) |
| @HannaTetteh | Twitter | January 30th |
| @KBAmissahArthur | Twitter | January 21st |
| @S_OkudzetoAblak | Twitter | January 20th |
| @PresidencyGhana | Twitter | December 6th |
| JDMahama | Facebook | 30th January |
These officials are however all government appointees and could lose their positions overnight. Mike Hammah, the former Minister of Lands and Natural Resources is very active on Twitter but is now a former minister. The institutions that these officials head on the other hand are permanent institutions. It would therefore be more beneficial to the government's communication team to maintain and coordinate the profiles of Government institutions.
The Rankings (i)
The overall rankings condensed in percentages are in the following pie chart:

Rankings of Websites by Percentage:


From the information above, it is quite obvious that most of the websites fall below an average rank of 3 Stars. Just over 72% of the MDAs have low web rankings, indicating very poor presence on the Internet, content, response to emails or social media interaction.
Additionally, it was found that the webpage of the Ghana Tourist Board (GTB) had the highest average page visits per site, as per the Alexa Ranking Report, of ONLY 11 page visits daily per visitor, making it the highest ranked Ghanaian MDA website. From the information obtained, it was also evident that the average number of pages visited daily per ALL THE websites of Government's MDAs was 2 pages.
This might possibly be due to poor design and communication of the websites which do not encourage visitors to explore further on whatever the subject matter was that got them searching for information.
However depressing this sounds, it means ONLY the GTB website is the most engaging of all the MDA websites, and might need a high level of maintenance and social media presence to make tourism in Ghana a more attractive option.
It is however fortuitous to note that most of the MDAs in Ghana have a representation on the Internet through the help of voluntary organizations such as Planning Wikimedia Ghana (http://meta.wikimedia.org/wiki/Planning_Wikimedia_Ghana ), whose contributions independently have created a worthy body of knowledge on MDAs in the country.
Recommendations:
On the advent of many e-governance initiatives, increased access to multimedia, technology facilities and amenities, it is important that the government and MDAs address the issue of Internet presence seriously.
With various open government initiatives across Africa promoting transparency, better service delivery and a reduction in redundant processes, which also could easily be conduits for corrupt activity, it is important that some of these upgrades to web presence be undertaken if we as Ghanaians do not want to be left behind.
Already, neighbouring countries like La Cote D'Ivoire and other countries like Rwanda are issuing e-Visas for visitors to their country, while undertaking enterprise level deployments to upgrade governance and service delivery, and as the gateway to Africa, Ghana should not lag behind.
Ghana, a beacon of technological transformation in Africa, cannot afford to have inefficiencies which provide better value for services in light of the fact that smooth government information flow and services are an important benchmark for the attraction of much needed FDIs into the country.
IMANI is a local think tank. For interviews, please contact IMANI's Communications Director, Mr. Evans Selorm Branttie on 0265139388