Business Day newspaper launched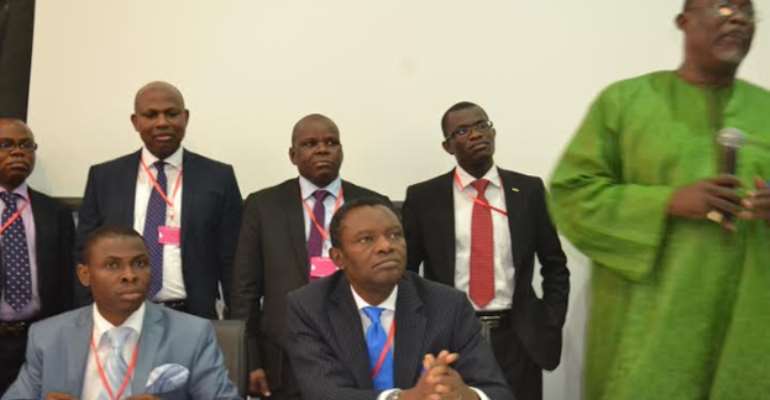 Business Day newspaper, a 56- page business newspaper, which aims to change the face of business and financial journalism in Ghana and beyond, has been launched in Accra, attracting endorsements from the Ghanaian business community at the just ended Ghana Economic Outlook and Business Strategy Conference in Accra.
The paper was launched by the Chief of Staff, Prosper Bani.
Business Day Ghana has local news content, as well as contents from Financial Times (UK), Harvard Business Review, Reuters, The Economists, among others, as a move to provide one-stop shop information to corporate decision-makers and policy makers, business schools, ministers and heads of state institutions, captains of industry, heads of bilateral support agencies, foreign and local investors, heads of civil society organisations, members of the diplomatic corps, players within the financial industry in Ghana, corporate executives, politicians, among other players in the Ghanaian economy.
The business publication is a joint partnership between two Ghanaian media institutions and a Nigeria-based media company.  The Ghanaian companies involved in this deal are LIZIDEL Company Limited, (Publishers of Economic Tribune Newspaper) and African Business Media (Publishers of Ghana Business & Finance Magazine), while the Nigerian-based company is Business Day Media Limited (Publishers of Business Day Nigeria).
Economic Tribune is a business newspaper that provides in-depth reports and analysis of Ghana's finance and economy – covering a wide range of grounds namely banking and finance, commodity and markets, telecommunications, agriculture, real estate, transportation, and international trade.
Ghana Business & Finance Magazine is a high-quality business publication targeted principally towards corporate decision-makers with the aim of helping to transform business values, practices and performance in Ghana.
Business Day Nigeria, on the other hand, was established in 2001 as the leading daily business newspaper based in Lagos, Nigeria. It provides up-to-date news and insightful analysis of business, policy and the economy in Nigeria.
The newspaper, which has over 500 employees in Nigeria, worked with PricewaterhouseCoopers, a reputable auditing firm, on the "Most Respected Company and CEO" survey in 2006. It also organises conferences, award events and training programmes attended by entrepreneurs, consultants, financiers and representatives from various industries.  The newspaper won several awards- both local and international.
Felix Dela Klutse, the Managing Editor of Business Day Ghana has stated: "The merger of the aforementioned three media entities is not only expected to change the face of business and financial journalism in Ghana but also to produce a paper that would offer our clients value for their money."
He continued: "With a circulation of 20,000 across the nation, our readers and clients should expect news that are factual, and accurate."
Mr Klutse added: "The complaint of many Ghanaian is that they often have to assemble all news publications in Ghana including surfing the internet in order to gather information about a specific sector. This situation leaves a big yawning gap of accurate and relevant information to fill. That is why Business Day Ghana has accepted this challenge and thereby introduced what we call The Business Day dimensional news reporting approach."
With this approach, Mr Klutse said the paper is not just interested in breaking the usual news through investigative reporting, but its articles will go further by helping readers expand their knowledge on the subject matter to enable them see and take advantage of existing opportunities across the globe.
"With a vastly knowledgeable and well-connected editorial team spearheading our publication, Business Day guarantees that its clients will receive only the most insightful commentary and analysis from this dynamic and extraordinary country, which is recording significant growth. In addition, our specialist contributors will present most complex issues with clarity," he disclosed.
Mr Klutse stated further: "We believe in objectively exploring, promoting, and discussing Ghana's enormous potentials.  Business Day Ghana hits your newsstand with interesting stories every Monday and subsequently become a daily paper. The mission of the business publication is to publish news of relevance and offer its readers an in-depth analysis of business events."