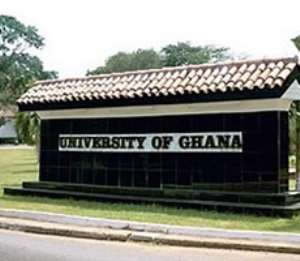 The University of Ghana has defended its decision to continue collecting road tolls on the the university's campus despite government's appeal.
Speaking to Joy News' Afreh Kwakye Nuamah, Monday, the Director of Public Affairs at the University of Ghana, Stella Amoah said the university would stop collecting the tolls only when it receives official communication from government stating an unequivocal decision to absorb the cost of building the roads.  
"The university has not yet received any formal communications from government", Stella Amoah noted, adding that the university could not go by media reports on government directives as it is not the usual way of communication between the two.
Over the weekend, the Chief of Staff, Proper Bani, disclosed government's readiness to absorb the cost of rehabilitating the university roads, instead of having motorists pay the tolls.
However, the collection of the road tolls continued today as Joy News' Joseph Opoku-Gakpo, who visited the university campus reports that the collection of the tolls created a heavy vehicular traffic on the roads.
Toll booths are still under construction and not yet near automation with drivers expressing frustration about the continuous collection of the tolls despite government's assurances that it would bear the cost of the road construction.
The Minister for Roads and Highways, Alhaji Amin Aminu Sulemana, however, tells Joy News his ministry would soon communicate the decision officially to the university.
The Minister noted that the issues have been referred to the Parliamentary Committee on Roads and Transport as Parliament is awaiting the committee's report on discussions held with the university authorities.
Alhaji Amin Aminu Sulemana says a formal decision will be communicated to the university authorities in due time as the decision to stop tolling the roads would also reduce the current traffic on the university and allow for smooth business on campus.
The University started the collection of road tolls since February 1, this year with several interest groups including the Students' Representative Council (SRC) of the University of Ghana kicking against the decision.
Authorities of the University of Ghana say they will only reverse their decision to charge tolls on its roads if government services the 2.3 million dollars loan they took build the roads.