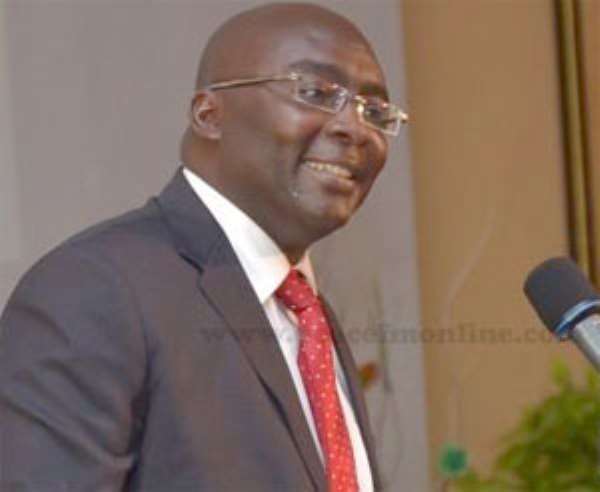 Dr. Mahamudu Bawumia
Dr. Mahamudu Bawumia's last erudite presentation about the state of the country's economy last year, including a gloomy prognosis of the stature of the Cedi in relation to the dollar, ruffled a lot of feathers.
They went into a frenzied mode hurling all manner of vitriolic against him: he held his cool and watched them confident that the truth would soon be out.
His prediction was not based on a crystal ball but premised upon a careful analysis of the economic order even as he was expectedly brushed aside with a dose of contempt.
Little did he know at the time that even before the end of the year his prediction would come to pass and befuddle Ghanaians in a manner beyond compare.
Now he can laugh last and pray that those at the helm would adhere to the ethics of fiscal discipline and stop politicking with the destiny of the country. It is our hope too that they would now understand Dr. Bawumia more clearly when he told them not to introduce propaganda into the management of the economy because sooner than later they would be exposed.
The dawning realities are adequate evidence of what the country is reaping from the folly of playing political pranks with the economy.
Should we therefore not take another look at the fundamentals of our economy and reduce the emphasis on the lies considering the fact that the ordinary man on the street understands some basic economics and cannot therefore continue to have dust thrown into his eyes?
Politicians at the helm underestimate the average Ghanaian at their peril: now the chickens have come home to roost and the truth is out for all to see.
We are aware about the frantic and largely panicky moves to bring the situation under control but sadly we are too deep into it that such measures can best be regarded as fire brigade response to a malaise which has degenerated into a chronic state.
The fate of the budget, which was presented amidst pomp and pageantry with a high concentration of propaganda, can best be conjectured given the uncontrollable depreciation of the Cedi for now.
We mimicked the late Bob Cole's 'I Told You So' play for our headline to emphasise the fact that Dr. Bawumia's predicted hard times are here, and after rubbishing the prediction, he can only turn round and say 'I told you so.'
If in February the Cedi has lost so much value, we wonder what awaits us in the next few months.
Dr. Bawumia come and collect your stone: a direct translation from the Akan and Ga languages implying that the economist/politician's prediction has come to pass.
God save our homeland Ghana during these restive economic times even as the political establishment is living in denial of the realities.