Samia Nkrumah kicks against plant breeders bill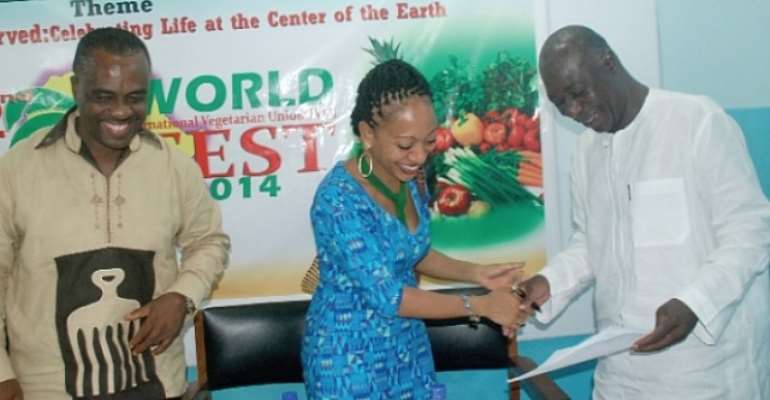 The Chairperson of the Convention People's Party (CPP), Ms Samia Nkrumah, has expressed worry over the yet-to-be-passed plant breeders bill by Parliament.
According to her, passing the bill was going to eliminate jobs and create unemployment in the country.
Ms Nkrumah, who made the call at the launch of the 42nd World International Vegafest Ghana 2014, called on the authorities of the country to stop passing the bill that was currently before Parliament, adding that it was going to cause great damage to the country's agricultural heritage and future.
Reacting to the bill, she said the Coalition Against GMO remained optimistic that until the time the various rounds of consultation were over, "they shall proudly have an overwhelming segment of Ghanaian civil society, students and religious bodies firmly represented in the fight against the introduction of GMOs in the country.
Elaborating further on the consequences of the bill, she said farmers would be required to buy new seeds every year and buy the toxic chemicals that would be required by those seeds.
"This will drive many farmers into debt. Burdened by debt, farmers are likely to lose their farms and those working on farms will move to the cities where there are no jobs," Ms Nkrumah said.
Amendment of bill
Ms Nkrumah said before the bill was passed, there should be an amendment in some of the clauses to protect farmers from the problems that would befall them in the future.
She was of the view that farmers in the country should be given the right over their own seeds.
"Farmers should be the first breeders," she said.
Ms Nkrumah advised parliament to delete or amend clause 23, which gives the plant breeders,the multinational corporations, right above the laws of Ghana so that the country would not be able to regulate the seeds.
Launch of Vegafest
Ms Nkrumah urged the youth of the country to adopt the plant-based diet since it was a giant step in leading Ghanaians on the path to healthy life.
"I am pleased that the size of the Vegetarian Association of Ghana is growing. However, we need more members and the media to sensitise the general public to the benefit of the plant-based diets that we live by," she said.
Launching the Vegafest, the Chief Executive Officer (CEO) of Heritage Development (Ghana), Mr Akunu Dake, said the Vegafest, which would be held in Ghana for the first time, aims at giving the general public the opportunity to promote healthy culinary culture in Ghana and Africa.