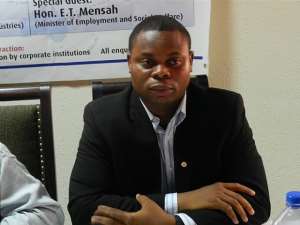 Franklin Cudjoe Of IMANI Ghana
An Accra District Court on Saturday threw out the case involving policy Think Tank Imani Ghana and the Social Security and National Insurance Trust (SSNIT).
The Executive Director of Imani Ghana, Franklin Cudjoe was on January 17 dragged to court over claims that he evaded the contributions of his staff to SSNIT.
But presenting the evidence of the case in court, lead Counsel for Imani Ghana, Lawyer Akoto Ampau disagreed with SSNIT and asserted the nation's pension's regulator misled the honourable court with the lawsuit brought against his client.
He further described the lawsuit as unnecessary and thereby prayed the court to acquit and discharge Franklin Cudjoe for no crime committed.
He told the court presided by His Worship Charles Boateng that Franklin Cudjoe was dragged before the court for the delay in submitting documents covering the payroll information of Imani staff to SSNIT.
According to the senior Lawyer, Franklin Cudjoe later complied with SSNIT's request and furnished them with the necessary documents for which reason the lawsuit should be dismissed.
His Worship Charles Boateng reasoned with Lawyer Akoto Ampau and asked SSNIT to amicably resolve the matter with Imani Ghana.
Lawyer Akoto Ampau said his client was ready to assist SSNIT in whichever way after analyzing the submitted documents.
During the proceedings, SSNIT's Prosecutor, Rosemond Evans attempted to smuggle in fresh charges against Imani Ghana but the presiding Judge kicked against it.
Lawyer Akoto Ampau on the sidelines exclusively told Citi News his client had been vindicated.
"It is a vindication of our client and we are very pleased with the court's ruling on the matter, but knowing the background to this case, we will not be surprised if they come back at us again; because the prosecutor even attempted to do so in court as she tried to raise new charges and the judge rightly said that was not part of the earlier charges brought against our client."
Nevertheless, he said they were ready to get to the logical conclusion of the case, but advised SSNIT to thoroughly analyze the documents submitted by Imani Ghana.
By the judgement, it meant that SSNIT can no longer bring the same allegation against Imani in respect of submission of documents in any court in Ghana.