Key South Sudan towns looted, deserted: UN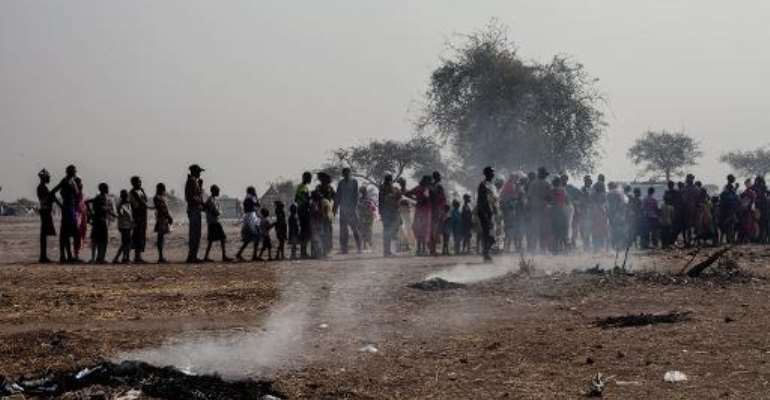 United Nations (United States) (AFP) - The United Nations mission in South Sudan reported widespread looting after a patrol in the strategic market town of Bor, which has changed hands several times in the conflict, officials said Friday.
The peacekeepers also found that the northeastern oil town of Malakal was "deserted and generally quiet," UN deputy spokesman Farhan Had told reporters.
Amid intense battles between government forces and rebels, tens of thousands of people have fled Bor and surrounding villages, preferring to take their chances against crocodiles in the White Nile and sniper fire from its banks rather than stay in town.
"Yesterday, a mission patrol observed that looting in most parts of the town appears to have been widespread," Haq said, adding that peacekeepers "noted population movements in the center of the town but residential areas were largely empty."
UNMISS peacekeepers are protecting an estimated 6,000 civilians in their camp in Bor and another 22,000 in Malakal.
The two towns have been the scene of heavy clashes between the South Sudanese army, loyal to President Salva Kiir, and fighters who back his former vice president Riek Machar.
South Sudan erupted into conflict on December 15 in what Kiir called a coup attempt by Machar, whom he sacked in July.
The former vice president denies the charge and accuses his ex-boss of trying to purge his rivals. The fighting has spiraled into ethnic killings between members of Kiir's Dinka people -- the country's largest group -- and Machar's Nuer.
According to the latest UN figures, 738,000 civilians have fled their homes because of the fighting but remained in South Sudan, while 130,400 left for neighboring countries, including Ethiopia, Kenya, Sudan and Uganda.