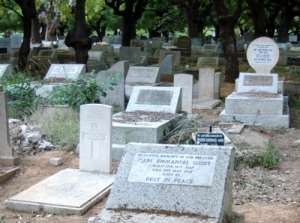 Small Scale illegal Miners (popularly referred to as galamsey) have desecrated about 30 graves belonging to the people of Kpalsko-Zangoyiri in the Bawku-West district of the Upper East Region.
Quite apart from this, the illegal Miners have not spared an area of about five kilometers radius destroying trees and water bodies in the course of their activities.
Due to persistent complaints from the people of the area about the activities of the Illegal Miners, the Bawku-West District Security Committee (DISSEC) in collaboration with the Bawku- West Police Command organized a swoop and arrested 34 of the Illegal Miners.
The Bawku- West District Police Commander, Assistant Suprintendant of Police (ASP) Mr. Christian Dogbatse said those arrested would be screened and those found culpable would be processed for court, indicating they will be charged for mining without license as well as conspiracy to engage in illegal mining.
The District Chief Executive for Bawku-West, Mr. Ayamde  Simon Agbango said areas in which illegal mining in the district takes place included Widnaba, Sapelga, Teshi, Kusanaba and Zangoyiri, adding that it was in Zangoyiri that it was carried out in a massive scale.
He said following the directive from the Presidency for the various Security Committees of the Metropolitan, Municipal and District Assembles to combat the menace of galamsey in their jurisdictions, the Bawku-West District decided to embark on a sensitization campaign to educate the miners on the dangers of illegal mining and on the need to stop their activities.
He said those at Zangoyiri  did not heed to their appeal and continued degrading the environment and coupled with persistent complaints from the people DISSEC embarked on an operation leading to the arrest of 34 people but said the miners numbered about 500 in the area.
He said the DISSEC in collaboration with the Police High Command would continue with the operations until the small scale illegal miners were flushed out from the district.
Mr Agbango called on the Minerals Commission to consider opening their offices in the various district to make the processing and acquisition of mining permits less cumbersome as most small scale miners complain of frustrations from the Minerals Commission in the acquisition of mining lincences.