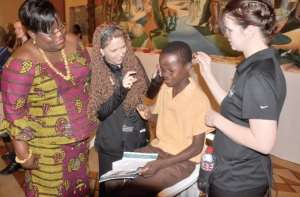 About 2,600 students from the Mampong School for the Deaf in the Eastern Region have benefited from a free ear-screening exercise.
Some of the students were given ear moulds and hearing aids to improve their hearing, while others were given free ear washing, after they had been screened.
The exercise, which lasted for three days, was organised by the Ministry of Gender, Children and Social Protection and the National Council for Persons with Disability https://www.google.com.gh/url?sa=t&rct=j&q=&esrc=s&source=web&cd=2&cad=rja&ved=0CCkQFjAB&url=http%3A%2F%2Fncpwd.go.ke%2F&ei=ArP0Uvy3CaPG0QXbuoGICQ&usg=AFQjCNE8k7MF3FO638pR1Qh0qh3yH9h1Cg&sig2=s0TjEeKN3KkCetrjIJ0ovw&bvm=bv.60799247,d.d2k (NCPWD) in collaboration with Starkey Hearing Foundation (SHF), a non-governmental organisation based in the USA.
Students with hearing impairment from the Volta, Brong Ahafo and the Ashanti regions as well as Adjei Kojo in the Greater Accra Region will also benefit from the exercise. Gender Minister
Speaking at the function in Accra, the Minister for Gender, Children and Social Protection, Nana Oye Lithur, said that her outfit was committed to ensuring the wellbeing of persons with disabilities.
She said the ministry would support any effort  targeted at the reduction of isolation, poverty, illiteracy and inequalities in society.
"The government of Ghana on its part recognises the existence of inequalities for opportunities among marginalised persons including persons with disabilities and the need to strategise through a pragmatic approach to bridge the gap," she added.
She lauded SHF for the initiative it had embarked upon and encouraged all persons with hearing impairment to participate in the three-day exercise. NCPWD Director
For her part, the Programmes Director of the NCPWD, Ms Amanorbea Dodoo, noted that the exercise would assist the beneficiaries to be independent.
Ms Dodoo was happy that a lot of the students had the opportunity to re-assess their hearing impairment.
With the provision of the hearing aid and ear moulds, the director said she was hopeful that majority of the beneficiaries would have their problems corrected through a gradual process.
The founder of SHF, Mr William F. Austin, indicated that his organisation was prepared to assist persons with disabilities, especially those with hearing impairment.
In all, Mr Austin said millions of people the world over had benefited from free ear screening from the organisation.