Stop galamsey now to save the future -GMA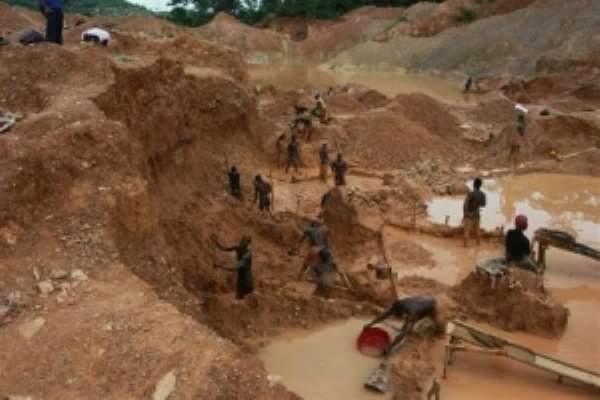 The Director-General of the Ghana Health Service (GHS), Dr Ebenezer Appiah-Dankyira, has warned that the country risks serious health implications if nothing is done to halt the menace of illegal mining.
The effects, he said, would be very devastating.
He said the use of heavy metal to pollute surface and underground water had severe health implications that would not manifest immediately but in the near future.
Speaking to the media at Sekondi during a working visit to the Western Region, Dr Appiah-Dankyira called on the government, Parliament, opinion leaders, the media, religious bodies and the security services to, as a matter of urgency, speak against and stamp out galamsey.
Mercury dispensed through the activities of illegal miners in the form of mercury vapour and the pollution of surface and underground water, he said, were highly toxic to humans.
Dr Appiah-Dankyira said mercury, which was a heavy metal and one of the chemicals used by illegal miners in their activities, had a dire effect on the health of humans, as it could cause the breakdown of the central nervous system.
"Those activities expose Ghanaians through drinking and inhaling gaseous mercury, which is absorbed into the blood. Once in the circulatory system, it can pass through the blood-brain barrier and accumulate in the brain, damaging the central nervous system," the director general said.
He said the earlier the country spoke against and took drastic measures to clamp down on galamsey, the better, since consumers of pipe-borne water may be consuming small amounts of mercury and unknown to the public, bits of it would accumulate and give negative effects in the not-too-distant future.
Dr Appiah-Dankyira urged the general public to join forces with the regulatory bodies to halt the galamsey menace immediately to safeguard the life of Ghanaians.
He applauded the current clamp down on galamsey but urged the task force in charge of the exercise to do more to eliminate the problem from the Ghanaian society.
Other doctors present at the media encounter indicated that even though pipe-borne water was treated, it still contained some amount of the mercury.
The doctors said aside those who drank treated water, millions of Ghanaians lived along the banks of these river bodies and fetched the raw water, which is heavily contaminated with chemicals such as mercury and arsenic, for domestic use.
The doctors said the unregulated nature of the activities of the illegal miners polluted the underground water with other natural chemicals, which should not be overlooked. How mercury becomes a toxicological problem
According to a United States geological survey on mercury contamination of aquatic ecosystems, like many environmental contaminants, mercury undergoes bio-accumulation.
Bioaccumulation is the process by which organisms (including humans) can take up contaminants more rapidly than their bodies could eliminate them, thus the amount of mercury in body accumulates over time.