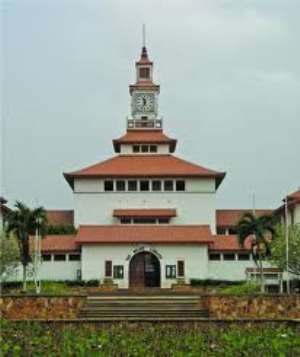 These are indeed very painful moments for you as students as the violent effects of visionless leadership, mismanagement, corruption and the capitalist spread has not spared you. We feel your pain and agony and deeply sympathize with you in these trying moments.
On your new ROAD TOLLS we have heard some of you argue "that the road toll is good but the cost should be reduced..." Fellow students, on this occasion let us be accused of 'crying more than the bereaved' we in the Convention People's Party Youth League (CPPYL) are of the strongest opinion that STUDENTS SHOULD NOT PAY A PESEWA in that dubious exercise; we call for Positive Action in that vein.
We begin by asking which students sat to decide on the fees and for how long would students be treated like kindergarten kids? For more than 20 years until 2011 the University of Ghana was collecting monies from students towards an'invisible' SRC Hostel Project; boards upon boards, fat, fat allowances and like we said, the project remained invisible; only the Vice Chancellor perhaps knows where this hostel project is.
Over the years we have seen an impressive mushrooming of hostels (ideas we suggested way back); we are aware that these hostels, most of which are now wearing into the university's ownership have become fat cows; so the question is: where does the money go?
Every year the University of Ghana alone sells more than 49,000 entry forms at a conservative price of GH 100.00 cedis to prospective students; once again, where does all the money go?
Aside all these, fresh and continuing students are forced to pay all kinds of head cutting outrageous fees; they pay computer fees, development levies, Residential Facility User Fees, Academic Facility User Fees, Photocopy royalty fees, Predictive Breakage Fees among others.
It is our view that students have bent backwards too many times, they have suffered too many times and they have sacrificed to many times; until the University accounts for all these monies, we urge all students to pay NOTHING. Besides, we see no reason why students should be the ones to pay for the failures and inefficiencies of Govt or the Ministry of Roads and Transport.
This may be a very difficult step but certainly a bold and decisive step with the potential to spread and inspire the rest of students elsewhere like the KNUST, UCC etc. In this great hour of need, your leaders need you more than ever; offer them ALL the support and encouragement in these trying moments of battle; come out in your thousands on the day of the intended demonstration to stop this evil from befalling our generation.
LONG LIVE THE UNIVERSITY OF GHANA
LONG LIVE THE STUDENT MOVEMENT
LONG LIVE GHANA.