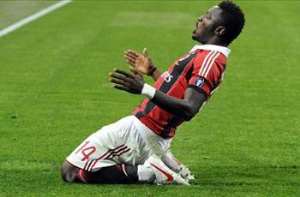 Sulley Muntari
Sulley Muntari hailed new Milan Coach Clarence Seedorf, but Max Allegri "will always remain in my heart."
The midfielder spoke to Sky Sport Italia only a few weeks into Seedorf'stenure as a tactician.
"When we were on the field together, he'd always give me a lot of advice, so the rapport between us has not changed," said the Ghana international.
"He is now our Coach and continues to give us all advice. We need to follow his orders because he is wonderful and I can tell from the training sessions he can do very well.
"We are all convinced of Seedorf's qualities, because he knows everything about football."
Seedorf was drafted in earlier than expected due to the dismissal of Allegrilast month.
"I was upset at his sacking, as is only normal when someone dear to you is sent away," continued Muntari.
"He was the one who wanted me at Milan and I will forever be grateful for that. He will always remain in my heart like all my other Coaches, from JoseMourinho to Luciano Spalletti and Giampiero Ventura."