Kenya's 'grasscutter' gang-rape case to move to court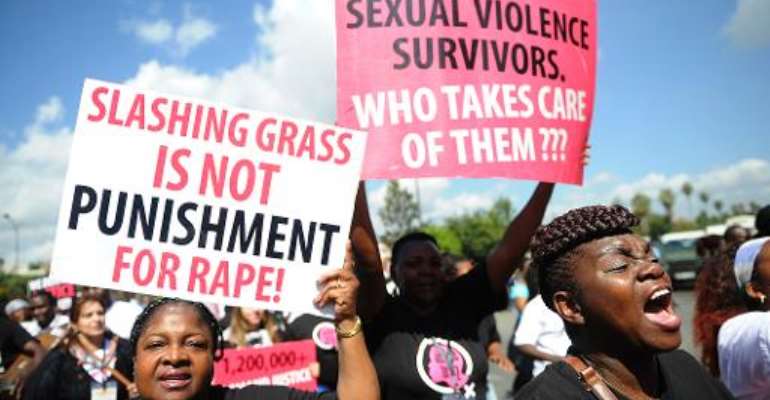 Nairobi (AFP) - The case of a Kenyan schoolgirl who was gang-raped last year and who has been confined to a wheelchair ever since, can go tried by a court, the public prosecutor's office said Thursday.
The 16-year-old, known by the pseudonym Liz, was reportedly attacked, beaten and then raped by six men as she returned from her grandfather's funeral in western Kenya in June, before the gang dumped her, bleeding and unconscious, in a deep sewage ditch.
She suffered a broken back, caused either by the beating or by being hurled down into the pit. The teenager also ended up with serious internal injuries from the rape.
The case caused outrage worldwide as the three of the alleged rapists who Liz identified were ordered by police to cut grass around the police station as punishment.
Some 1.6 million people worldwide have signed an online petition publicised by the online campaign group Avaaz demanding "Justice for Liz".
"It was agreed that the case proceeds to court without further delay, the medical evidence supports charges of sexual violence," a joint statement Thursday from the prosecutor's office and two womens' groups said.
The prosecutors' office has also ordered an investigation into the failure of the police to take the case seriously.
Police chief David Kimaiyo had cast doubt on Liz's testimony, saying in November that the time between her screams for help and villagers coming to her rescue was "too short for six assailants to have gang raped her".
He said she had fallen into the pit rather than being pushed into it.
He also claimed that because she did not report the rape for two months, it might be "futile" to charge suspects "without proper evidence".
Rape is a serious problem in Kenya but is seldom taken seriously by the police, rights groups say.