Eight dead, one missing in South Africa mine blaze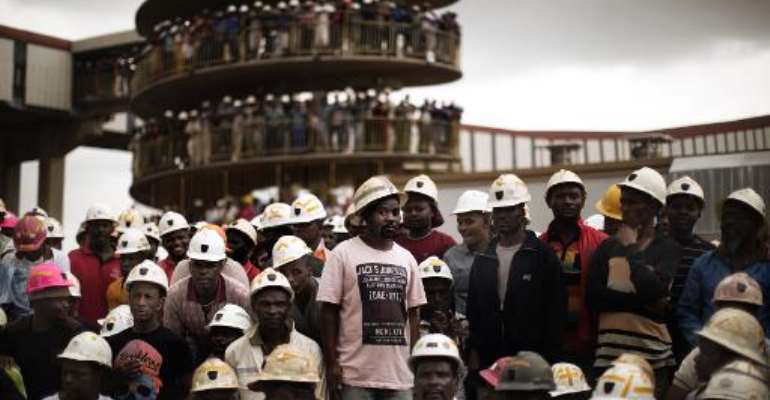 Doornkop (South Africa) (AFP) - Eight workers have been found dead deep inside a burning South African gold mine, their union said Thursday, as rescuers raced to find one miner still missing.
The bodies were discovered late Wednesday at the mine west of Johannesburg, National Union of Mineworkers (NUM) spokesman Livhuwani Mammburu told AFP.
An earth tremor is thought to have triggered the accident at Harmony Gold's Doornkop mine, some 1.7 kilometres (more than a mile) below ground.
After the tremor, a resulting rock fall is thought to have damaged electric cables and started the fire that caused the most serious mining accident in South Africa since 2009.
Seventeen miners had initially been trapped by the blaze.
On Wednesday eight were rescued from a underground refuge chamber, a sealed unit with compressed air and water supply.
Eight more were found dead after a search that was hampered by heavy smoke and ground tremors.
"The search continues for the ninth employee," Harmony Gold said in a statement.
Like his colleagues, the unnamed miner was provided with a rescue pack, which provides enough air to breathe for 30 to 35 minutes -- theoretically enough time to get to a rescue chamber.
As rescue teams toiled underground to find the man, hundreds of his colleagues gathered in front of the shaft for a memorial service to the eight men that did not make it.
They joined in prayer and -- although many come from neighbouring Lesotho, Swaziland and Mozambique -- sang South Africa's national anthem.
"People died, these guys are my colleagues," said miner Zacaria Maude.
"It's not good when you wake up in the morning you say you're going to work -- you tell your wife and children -- but at the end of the day, you never come back. I find it very, very, very sad."
Company CEO Graham Briggs told AFP said the firm was working to make contact with the families of the deceased and provide counselling and financial help.
"No matter what it costs to recover the situation, we will spend that money to recover the situation," he said.
Investigation
Mining Minister Susan Shabangu described the incident was "deeply regrettable" and said an inquiry would begin as soon as the last man was found.
"We must ensure that we do all we can to get to the bottom of what caused this incident, in order to prevent similar occurrences in future," she said.
"Operations at Harmony Gold's Doornkop mine will cease until the area has been declared safe for employees."
Accidents are commonplace in South Africa's mines, which are the deepest in the world.
In July 2009, nine workers were killed in a rock fall in a platinum mine.
The same year, at least 82 people digging illegally in an disused gold mine shaft died when a fire broke out underground.
Throughout the 20th century, an estimated 69,000 people died South Africa's mining industry, according to a government-sponsored commission of inquiry.
But the number of fatal accidents has fallen sharply in recent years.
According to union figures, 112 people died in the mines in 2012.
"The gold industry has over the past five years improved its health and safety standards tremendously, and for such an incident to occur is obviously a setback," said Shabangu.
Doornkop is a single-shaft mine, which operates up to two kilometres down on the Kimberley and South Reefs. The mine produced 3,631 kilogrammes of gold in 2013.
The Johannesburg Stock Exchange-listed firm is Africa's third largest gold producer, with operations also in Papua New Guinea.
South Africa's gold mining has steadily decreased over the past 40 years, sliding from top global producer to world number six.
The country produced 167,235 kilogrammes of gold in 2012.