Hopeful Signs From Indaba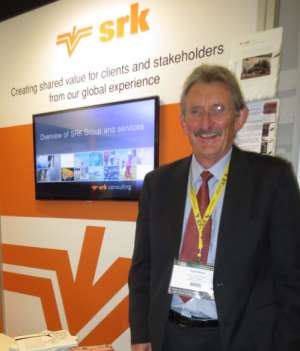 Roger Dixon, Corporate Consultant And Chairman, SRK Consulting
5 February 2014 – Cape Town: Positive sentiment is starting to seep back into the mining environment, as key players acknowledge the need for better collaboration, healthier partnerships and more certainty about future policy.
Attending the 2014 Mining Indaba in Cape Town this week, SRK chairman Roger Dixon said it was encouraging to hear Minister of Mines Susan Shabangu highlighting the value of the mining sector to SA's economy, and the importance of supportive regulations.
He said it was also important that she emphasised how Africa's mining development had to be integrated with its infrastructure development initiatives over the long term, rather than expecting "quick wins" from once-off projects.
Shabangu also recognised that Africa was still highly prospective in terms of exploration, with just US$5 per square kilometre spent by explorers compared to an average of US$65 spent in the Canada, Australia and Latin America.
Dixon noted that, despite the lacklustre gold price, half of the exploration activity in Africa was still focused on gold, and that SA was still a major contributor to exploration on the continent – along with Australia and Canada.
"It is also interesting to see the move away from technical project presentations at the conference, towards more vital, broader discussions about how Africa's players need to collaborate more effectively in search of shared value in developing the minerals industry," he said.
Underlying much of the optimism has been China's continued strong growth, albeit at lower levels than hoped, and the signs of recovery in the US and Europe – all major markets for the commodities that Africa mines.
Inevitably, the state of industrial relations in SA's mines is attracting attention at the conference, with a growing recognition that much needs to change before any long-term resolution will be found, said Dixon.
"A number of well-informed speakers make it clear that just about everything – from the migrant labour system and living conditions around mines, to structural issues in the Labour Relations Act and the way that centralized bargaining has evolved – needs to be addressed afresh if progress toward more co-operation in the sector is to be achieved," he said.
The message is clear. "Africa is growing and the potential is great, but good leadership is demanded to find a path through the myriad challenges that exist. It is also clear that the industry's public image does its future no favours", commented Dixon.
"Mines do a lot of good, but are seldom pro-actively telling the world about it," he said. "A few speakers have already made the point that the sector does not 'sell itself' very well – and so this negative image lingers on, fostered by the occasional well-publicised adverse story."
So a new story must be written, he said, and it must be built on trust, collaboration and sustainability.
About SRK Consulting
SRK Consulting is a leader in natural resource and development solutions, providing technical services through 50 offices in 22 countries, on six continents. With an African presence in Angola, and practices in the Democratic Republic of Congo, Ghana, South Africa and Zimbabwe, the global group employs more than 1,700 staff in a range of engineering, scientific, environmental and social disciplines.