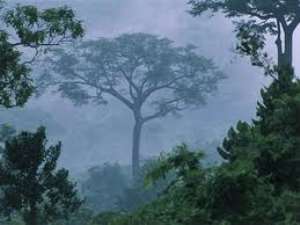 Ghana would need to formulate laws that are enforceable at the community level to succeed in forest conservation programmes, says Obed Owusu Addae of Civil Response, a civil society group.
Ghana has promulgated laws to prohibit and control certain activities in forest reserves, especially chainsaw lumbering.
But there have been challenges due to high demand for lumber to serve the local market as well as other wood products to support livelihoods of local communities living in forest areas.
Mr. Owusu Addae says forest conservation should not be at the expense of community rights.
"Somebody staying less than 10meters to the forest, you tells such person to come to the district capital to buy wood and take it back to the community to do his project; it's impossible", he observed.
He describes the forest as an "open resource" in which anyone can move in and exploit, hence the need to fashion out enforceable laws. "So I think we need to formulate the laws that will work at the grassroots."
Civil Response has been involved in negotiations between Ghana and the European Union on the Voluntary Partnership Agreement (VPA) to ensure communities' perspectives are brought to bear in the agreement.
Mr. Owusu Addae says there seems to be some progress in community engagement on forest conservation but law enforcement has been challenging.
He called for efficient resourcing of forestry officials to monitor and curtail illegal activities in the forest reserves.
Tropenbos International Ghana is working with the Forestry Commission and other partners to protect such reserves.
Programme Director at TBI, Samuel Nketiah, is confident community engagements under activities of the VPA will help ensure the integrity of the forest.
Story by Kofi Adu Domfeh