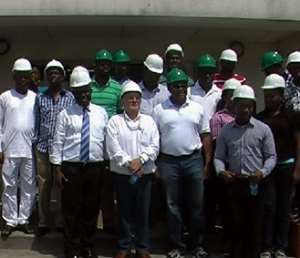 L-R SSA On Power Dr. Victor Udo, MD, Ibom Power, Mr. Gareth Wilcox And CEO NBET, Mr. Rumundaka Wonodi During A Visit To Ibom Power
The first Independent Power Plant in Nigeria, Ibom Power plant, is at the verge of recording another 'first' as the Chief Executive Officer of the Nigeria Bulk Electricity Trading Plc, NBET, Mr. Rumundaka Wonodi has said that "NBET Plc will like to enter a Power Purchase Agreement with Ibom Power in February 2014"
If agreements are reached, Ibom Power Plant will be one of the first Independent Power Producers in Nigeria to sign a Power Purchase Agreement with NBET.
The CEO who spoke during a courtesy visit of NBET Senior Management team to Ibom Power said that "the Nigerian electricity supply sector is about to enter the next stage of the market which is the transitional electricity market"
He said "a basic requirement for that stage is that all the generating assets should have a Power Purchase Agreement so that all the generation and consumption through the Distribution companies is administered under a contract"
Mr. Wonodi added that "part of NBET's visit to Ibom Power plant was to state their commitments and also get some commitment from Ibom Power"
Speaking further, the Electricity Bulk Trader Boss said "the good thing about the Power Purchase Agreement is that to a large extent, it addresses the issue of transmission and capacity payments"
He gave assurances that "NBET is very well capitalized with over $700million fund backed by World Bank and with that, Ibom Power can be rest assured that payments will be made as at when due"
In response, the Managing Director of Ibom Power, Mr. Gareth Wilcox said "the Power Purchase Agreement with NBET is very important because without the PPA it will be impossible to operate and maintain the power plant"
He said "we are therefore happy that the Chief Executive Officer of the NBET has agreed to sign a PPA with us in February"
Meanwhile, the Senior Special Assistant to the Governor on Power, Dr. Victor Udo, who is also a board member in Ibom Power Company has expressed delight with the news of a PPA agreement between NBET and Ibom Power.
Dr. Udo said "Ikot Abasi is a Power exporting hub because apart from the 191MW Ibom plant, ALSCON has 540MW capacity plant and there is another proposed plant with 250MW capacity all within Ikot Abasi in Akwa Ibom state"
The SSA on Power went on to explain the 5 point strategies of Governor Godswill Akapbio to ensure steady power supply in Akwa Ibom state through steady Gas supply, sufficient Generation, Transmission, Distribution and Utility Competency.
He concluded that "the way Akwa Ibom goes, that is how Nigeria Goes because Akwa Ibom is the home of 'Uncommon Transformation' and there are a lot of opportunities here".