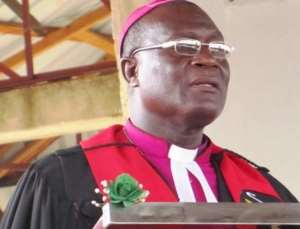 Rt. Rev Stephen Richard Bosomtwi-Ayensu
If there is one person who has currently incurred the wrath of sympathizers and communicators of the National Democratic Congress for telling the 'truth', then it is the Methodist Bishop for Obuasi Diocese.
Rt. Rev Stephen Richard Bosomtwi-Ayensu recently charged President Mahama to wake up from his slumber and stop sleeping on his duties. Addressing congregants at a crusade organized by the Methodist Church at Obuasi, Rev. Bosomtwi-Ayensu said "It is about time we the men of God took the President and his Ministers on face-to-face.
We have prayed and fasted, prophesied and done everything spiritually possible to no avail and it's time to now question the President and his ministers".
But like soldiers laying an ambush, the likes of Mr. Kwadwo Twum Boafo, Chief Executive Officer of the Ghana Free Zones Board; Samuel Okudzeto Ablakwa, Deputy Minister for Education; Mr. Sam Pee Yalley, an Ambassador-designate and Mr. Kwesi Pratt, Managing Editor of the Insight newspaper spared not the man of God when he criticized the government. He was likened to a man not from God and told in the face that he was engaging in a "useless and naked populism".
However, it appears the acerbic remarks leaves Rt. Rev Bosomtwi-Ayensu undeterred.
Speaking to Okay FM shortly after the blistering attacks on his person and the church, he insisted that he still stands by his words that governance under the current leadership is failing. According to him, he has come to the realization that "the foundation of NDC shakes when the truth is being told".
In an implied riposte to government communicators and sympathizers who unleashed attacks on him, Rt. Rev Bosomtwi-Ayensu stated that "the devil can decide to be angry, but one word from God, would surely wipe them out."