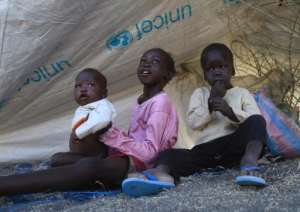 South Sudanese refugee children are seen at a camp run by the Sudanese Red Crescent on January 27, 2014 in the western part of Sudan's White Nile state, about 30 kilometres from South Sudan. By Ashraf Shazly (AFP)
Khartoum (AFP) - The United Nations on Monday asked Khartoum to improve access to South Sudanese who have fled fighting in their country and who face deteriorating humanitarian conditions in Sudan.
It is the latest alert raised by aid agencies about access to the needy in Sudan, where unrest had already uprooted people in the Darfur and Kordofan regions as well as Blue Nile state.
A UN statement expressed concern "about reports of rapidly deteriorating humanitarian conditions in the sites where newly arriving South Sudanese reside and to which UNHCR and other UN agencies have had limited access so far".
The comment came in a joint statement by Ali Al-Za'tari, who heads the UN mission in Sudan, and Angela Li Rosi, acting country chief of the UN'S refugee agency (UNHCR).
They said the UN is ready to support the government and local agencies "in providing protection and badly needed humanitarian assistance to the new arrivals and calls on the government of Sudan to facilitate sustained direct access to them."
Aid agencies estimate that, as of January 27, up to 22,200 people including nomads may have crossed into Sudan from South Sudan, the UN's Office for the Coordination of Humanitarian Affairs (OCHA) said in its latest weekly bulletin.
They are among more than 850,000 displaced by seven weeks of fighting in South Sudan between forces loyal to President Salva Kiir and rebel troops and militia who back his sacked vice president, Riek Machar.