Ahoada Town, Headquarters of Ahoada Local Government Area went agog last Saturday when Barrister Charles Ihua-Maduenyi declared for the All Progressives Congress (APC).
In an event that was witnessed by an enthusiastic mammoth crowd, over 300 supporters and associates of Bar. Maduenyi declared for APC alongside their leader.
In his declaration speech, Barr. Maduenyi expressed his satisfaction with the organization and ideology of the APC.
"I feel satisfied with the planning, operation and most importantly the ideology of APC. I will bring my wealth of experience in grassroots politics to ensure that the people of the LGA vote massively for the APC in the coming elections"
In his speech, the Rivers State Interim Publicity Secretary of APC, Chief Andy Nweye, congratulated Barr. Maduenyi for his decision to pitch tent with the APC, describing him as not only a big fish but a gargantuan hippopotamus in the politics of Rivers State.
According to Chief Nweye, "By your declaration, Ahoada East is now completely APC."
Dignitaries at the event include the Deputy Leader of the Rivers State House of Assembly, Hon. Nname Ewoh; Hon. Ibiso Nwuche of the RSHA and the Council Chairman of Ahoada East Local Government, Chief Cassidy Ikebidi. Others are Hon. Friday Echikwa and Eric Apia amongst others who graced the occasion.
Chief Andy Nweye
Publicity Secretary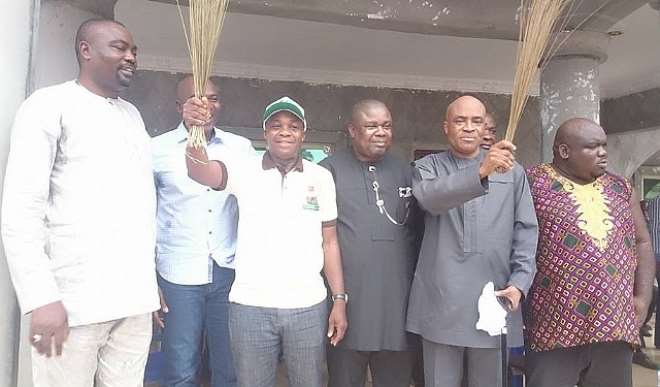 Chief Ikebidi [1st From Left], Barr. Maduenyi [3rd From Left] And Chief Nweye [2ndfrom Right]