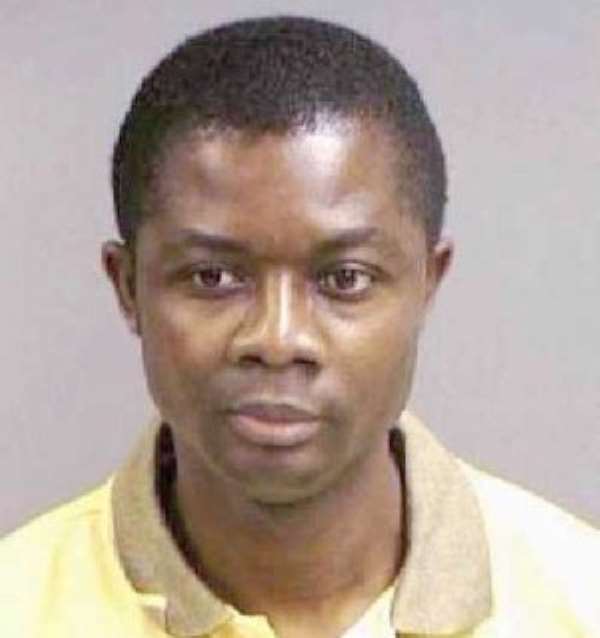 A Clarinda, Iowa, doctor says Omaha police officers roughed him up Saturday after he yelled at them when his family became upset during questioning.
Omaha Police Sgt. Teresa Negron said Tuesday that the doctor confronted the officer, refused to leave when told he could and was ultimately arrested on suspicion of disorderly conduct and resisting arrest.
Negron said a man called 911 about 4 p.m. Saturday to report seeing "several small children left alone in a burgundy Acura" in a parking lot at 7520 Dodge St.
Dr. Emmanuel Sarpong, 38, said he saw an officer near his car after Sarpong and his 9-year-old son had been in Best Buy for about 15 minutes.
His 38-year-old wife, 3-year-old son and 9-month-old daughter were in the car, he said.
Sarpong, a Ghana native who came to the United States in 1997 for a medical residency in Chicago, is an internist at Clarinda Regional Health Center.
Sarpong said the officer's first words to him were "Why do you leave your kids alone in the car?"
Sarpong told the officer his children weren't alone and pointed to his wife, who had stayed in the car to feed the baby.
"No reasonable person can see (my wife) and think she's a child," Sarpong said Tuesday.
The officer told Sarpong he was being investigated for child abuse.
Police said Sarpong became upset and began yelling that his wife was in the car with the children while he was shopping.
The officer explained that the investigation would take a few minutes, Negron said.
Sarpong said he waited in his car for a few minutes but his children were crying so he told the officer he needed to go.
The officer returned to Sarpong's car and started questioning the 9-year-old, Sarpong said. He said he yelled at the officer to get away, saying he needed permission to talk to the child.
Sarpong said he called the officer racist. Sarpong is black and said the officer is white.
Negron said the officer told Sarpong that no evidence of child abuse had been found and that he could leave.
Police say that Sarpong "continued to confront the officer in very close proximity, pointing his finger 1 to 2 inches from the officer's face, using threatening gestures."
Police said Sarpong was told several times that he could leave but he refused.
The officers then tried to arrest Sarpong using verbal commands and used handcuffs when he refused to comply, Negron said.
Sarpong said he didn't resist. He said when he turned to leave, he "felt somebody hold my left hand, twist me in the back and kick me in the left leg."
Sarpong said he fell and both officers jumped on top of him.
Sarpong said he and the officer had talked nicely during the initial questioning.
"I think it was probably my yelling that made them mad," he said. "I just cannot see anybody scare my kids."
Sarpong said that when he got to the police station and officers found out he was a doctor, their attitude toward him changed.
"They tried to be nice to me, and I just refused to talk to them," he said.
Sarpong said a doctor prescribed pain medication Monday after he complained of being injured during the arrest.