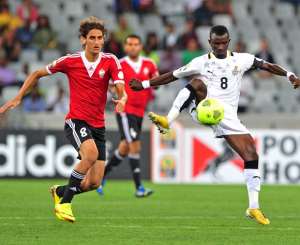 By Fiifi Anaman
Six Ghanaian players made the 2014 African Nations Championship (CHAN) team of the tournament.
Goalkeeper Stephen Adams, Defenders Samuel Abeiku Ainooson and Joshua Tijani, captain Jordan Opoku, and attacking duo Yahaya Mohammed and Seidu Bancey all made it into CAF's final 23 man squad of outstanding players at the tournament which ended on Saturday.
Ghana placed second at the tournament, losing 4-3 on penalties to Libya in Saturday evening's final played in Cape Town after a goalless draw.
Tijani, Opoku and Bancey all made the first XI, with Mohammed, Adams and Ainooson making the bench.
Yahaya Mohammed was twice named man-of-the-match in the tournament out of the five matches he featured in, whilst Abeiku Ainooson was named man-of-the-match in that grueling semi-final with Nigeria as well as going on to put in a critically acclaimed display in the final.
Captain Opoku played an influential role for Ghana in midfield throughout the knockout phase, after a really quiet group phase, whilst Seidu Bancey put in a decent shift after breaking into the squad in the final group game. Joshua Tijani was also praised by coach Maxwell Konadu as his "unsung hero" at the tournament.
Goalkeeper Adams was hailed as Ghana's best player of the tournament by many, clocking five clean sheets in the tournament and not conceding a single goal from open play.
The only goal he conceded came in the second group fixture against Libya, and it came via the penalty spot as Faisal Saleh Al Badri slotted home. He however lost out the best goalkeeper laurel to his Libyan counterpart Mohammed 'Nashnush' Abdaula, who took Libya through three successful shootout successes in the knockout phase.
The list also featured many of the tournaments revelations including skillful Zimbabwean winger Kudakwashe Mahachi and Nigerian star playmaker Chrisantos Ejike Uzoenyi.
Below is the full list.
Goalkeeper: Mohamed Abdaula (Libya)
Defenders: Ali Salama (Libya), Partson Jaure (Zimbabwe), Odunlami Kunle (Nigeria), Joshua Tijani (Ghana)
Midfielders: Kudakwashe Mahachi (Zimbabwe), Mohamed Elgadi (Libya), Jordan Opoku (Ghana), Christantus Ejike (Nigeria)
Forwards: Rabiu Ali (Nigeria), Seidu Bansey (Ghana)
Substitutes: Stephen Adams (Ghana), Peter Moyo (Zimbabwe), Buhlebuyesa Mkhwanazi (South Africa), Mohsine Moutaouali (Morocco), Yahaya Mohammed (Ghana), Abdelsalam Omar (Libya), Ibourahima Sidibé (Mali), Hardy Binguila (Congo), Jean-Marc Makusu Mundele (DR Congo), Erwin Nguema (Gabon), Samuel Ainooson (Ghana)