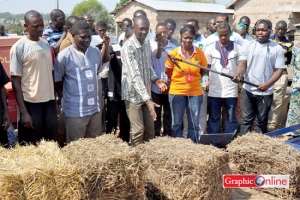 The Crops Research Institute (CRI) of the Council for Scientific and Industrial Research Institute (CSIR) has held a field day on livestock feeding, production and management for livestock farmers.
The field day was under the Innovation Platforms (IPs) project being implemented by the CRI for promoting farming, especially livestock production at Amantin in the Brong Ahafo Region.
The day formed part of a three-regional annual review and planning workshop on Sustainable Intensification of Integrated Crop and Small Ruminant Production System in West Africa at the institute at Fumesua, near Kumasi.
The field work was attended by over 100 crop and livestock farmers from Atebubu and Amantin in the Brong Ahafo Region.
The farmers were taken through the management, packaging and storage of maize straw, cowpea haulm and rice straw, which are said to be the best feed for livestock as well as having marketing potential in the sub-Saharan African country.     
Speaking to the farmers, Dr Hans Adu-Dapaah, Director of CRI, said the field day was to educate the farmers on other income-generating avenues after harvesting their farm produce.
He said most of the maize and rice straw, burned after harvesting, could be used to feed animals or exported to neighbouring countries for income.
He stressed the need for farmers to adopt scientific means of farming practices and livestock feeding to ensure their animals were healthy.
Alhaji Yusif Bunbas, a participant, expressed his appreciation to the research officers at the CRI for their research, which has improved agricultural production, especially maize production in the area.   
He said the introduction of the new livestock feeding would help improve the health of their livestock and also reduce post-harvest waste.