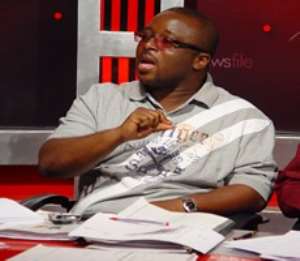 The Chief Executive of the Ghana Free Zones Board, Kojo Twum Boafo has castigated the Methodist Bishop for Obuasi, Rt Rev Stephen Richard Bosomtwi-Ayensu for criticising the Mahama-led administration.
He has accused the Reverend Minister of "standing in the pulpit and doing NPP's agenda" instead of appreciating government's efforts in solving the myriad of challenges in the country.
He said on Radio Gold Friday morning that, Rt. Rev Bosomtwi-Ayensu would not get away with his words, stressing that, "He is not going to get away with it. He is going to get a response and that response is going to continue until he clarifies what it is he wanted to say because you can't just get up and talk about the president of this republic that way."
Mr Twum Boafo accused the clergy of being hypocrites, saying, "There is a certain hypocrisy among certain sections of the pastoral community in this country. They have an agenda and that agenda is that by hook or crook they must remove the Mahama led administration. For those of them who are shouting that Ghana is hard, Ghana is hard, how many of them have told their congregation that today because Ghana is hard don't give us any collection," he said.
He suggested that instead of taking offering from the congregation on Sundays, "they should tell their congregation that Ghana is hard so don't put any collection in the offertory and that we are rather going to give you money."
Rt. Rev Bosomtwi-Ayensu was reported to have criticised President John Dramani Mahama's administration, describing the President as sleeping on the job.
He was reported to have said that the government has failed to address concerns by the masses as it continues to impoverish the citizens by taking harsh economic decisions.
However, clearing the air on the issue, the Rev Minister explained on Radio Gold that his observations about the current economic conditions in the country had been misconstrued because he was speaking in the Fante dialect and that he did not categorically make mention of the President's name.
"I never mentioned any title, any office in my discussion. I believe a nation is not governed by the president but by the government. So whatever I say I refer to the government because my understanding of government is a group of people manning a nation and not an individual," he explained.
He also explained that his intention was not to condemn the government but a call for it to sit up.