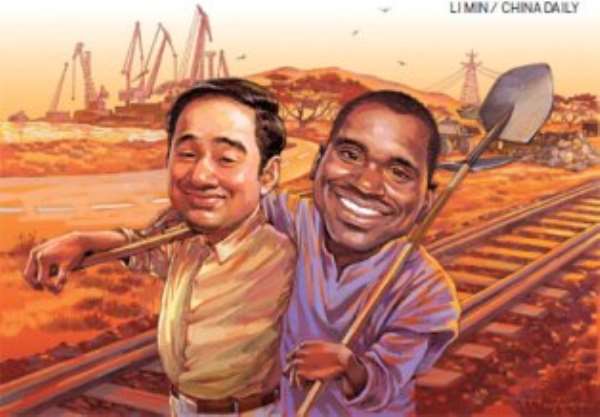 Whoever tells the ordinary man that you must be Joseph Stiglitz before you would be able to understand the workings of economics in our times must have no other intention but to keep the ordinary man from thinking so as to enable his easy exploitation and manipulation for it is only an ignorant person, who is incapable of critical thinking, who will believe that borrowing, relying on foreign aid and donations from people who control 90% percent of our resources will lead us to development. Where on this planet called earth has this happen before? Maybe I am not aware so am pleading with someone to school me.
Whoever said, going for loans where we use large amounts from our scanty revenue to pay commitment fees and other charges on the loan, only for our own money to be recycled by the loan master and given to us as back as loans, while we use our natural resources as collateral, whoever said this leads to economic development must be lying to us. Where on this planet earth has this lead to economic development and self reliance? I don't know of any but if anybody knows, I will be glad to learn from him or her, or probably we are going to be the first people who will take this path to economic independence.
Anytime we talk about excessive borrowing and debt as a country we are told that even the advanced economies borrow, but I personally don't see the reason why the borrowing by a strong economy should be correlated with the borrowing by a vulnerable and decrepit economy like ours that can crumple just at the sneezing of donor agencies. At this stage of our development where there is the need to save as a country and then divert these savings into sectors like Agriculture and Industry, we are rather preoccupied with financing budget deficits that arise out of cosmetic projects that we can't even account for. Well, maybe we are just continuing the borrowing addiction that our founding fathers were trapped into by the loan master so that forever we will be reliant on them to support our borrowing turkey. (Turkey is the strong yearning a drug addict has towards drugs)
It surprising that we have not changed our ways after over 50 years of wallowing in western debt trap which has lead our country to HIPC and back, and has also made our economy over dependent on foreign aid. We have been repeating the same things over and over again but with the expectation of different results. Today as we speak, our leaders are grinning from ear to ear and walking us chest out into the Asian debt trap. They believe there are no other alternatives of generating revenue to help solve our power and other problems so we must continue with our borrowing culture and hope that our economy will become self dependent very soon.
But how on earth can we find other alternatives for generating income for our developmental needs if after over 50 years of mining partnership with foreign multinationals we are still pleading for technology transfer. Our leaders can't even demand for it after such a long time, all they do is to go pleading and begging that there should be technology transfer so that we can take control of our Gold. Doesn't it sound funny? Which sound minded business man who gets over 70 percent of our total gold export earnings will heed to such plea if there is no law which is well enforced to compel him to transfer technology with a particular time frame?
In the early stages of our journey as a sovereign country we walked into so many debt trap set by the west which gave them license over our financial affairs and also granted them power to dump on us finished goods from their industries. These goods from their industries further went to strengthen our taste for foreign goods that we developed during the colonial days. This foreign taste became an addiction, so when there was a shortage of these foreign goods in our shops in the late 1970's to the 1980's it was near disaster until one Junior Jesus stepped in from the barracks and since then the avalanche of goods flowing in from OYIBO land has never seized and the obvious price we have paid, is the near total collapse of our manufacturing sector.
Today as we speak, we are walking into the Chinese debt trap with its barrage of consequences. The Chinese multinationals have already gained their right in our economy and are gaining grounds not to transfer technology but to develop the Chinese taste. As a matter of fact the taste has already developed and I wonder what will happen when we wake up to tomorrow and find no Chinese goods and services at our market places. Well, maybe that will call for the second coming of Junior Jesus.
The Chinese are giving us loans which we will be used for various infrastructure developments, these contracts will definitely be given to Chinese companies and they will intern import almost everything from China thereby recycling the money in their own economy while they are already lifting our oil for the loan. At the end of the day when the contracts are done, there we be little or no technology transfer at all, therefore when there is need for improvement, renovation or repairs then there will be a need to fall on them again and import the brains and technology as it has been in the case of other traps that we have fallen into in the past. Failure to do so means the decay of the facilities which we sometimes don't finish paying the loans through which they were constructed before they start decaying, and such has been the Ghanaian tale of development.
Where on earth did any country develop like this? Maybe am too young and haven't come across this kind of history, so I will like someone to school and I will be glad to learn. I have heard tales of how great nations were built but I am yet to hear the tale of a country that borrowed its way into development. Are these Asian loans not traps that will allow these people to take advantage of our natural resources and economy while they create some kind of dependency link between us that will be to our disadvantage?
Well, Ayn Rand once said "We can ignore reality, but we cannot ignore the consequences of ignoring reality." So while try to ignore the reality that we are repeating the mistakes of history let's not forget that we will surely face the consequences of ignoring reality.
Kenneth Nii Yeboah
[email protected]